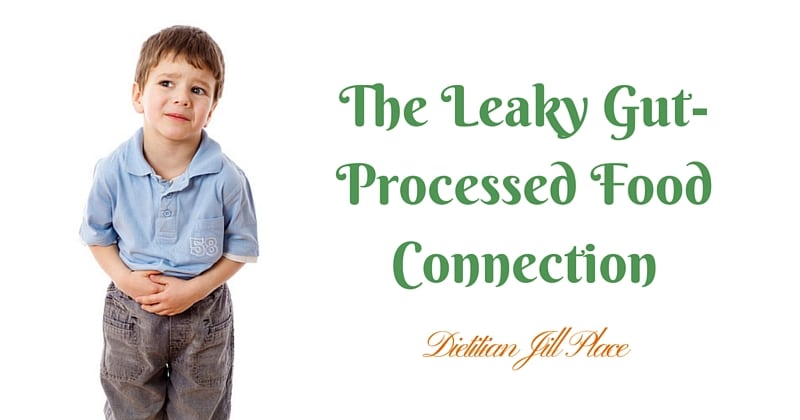 Can Fake and Fast Food Make You Sick?
If you've seen the brilliant film, Super Size Me, you've watched Morgan Spurlock go from a healthy, normal-weight, vegetarian to a 25-pounds heavier, heart disease-prone, food addict in one month. I especially liked the part where he threw up the food early on. Was his body telling him "NO!"? I think so!
The good thing is that burgeoning editorial like Spurlock's has prompted more scientific research into why bodies destruct like his did. A 2010 article in Clinics sheds some light upon this ever-growing phenomenon. Here's the abstract from that article …
Increased intestinal permeability is a likely cause of various pathologies, such as allergies and metabolic or even cardiovascular disturbances. Intestinal permeability is found in many severe clinical situations and in common disorders such as irritable bowel syndrome. In these conditions, substances that are normally unable to cross the epithelial barrier gain access to the systemic circulation. To illustrate the potential harmfulness of leaky gut, we present an argument based on examples linked to protein or lipid glycation induced by modern food processing. Increased intestinal permeability should be largely improved by dietary addition of compounds, such as glutamine or curcumin, which both have the mechanistic potential to inhibit the inflammation and oxidative stress linked to tight junction opening. This brief review aims to increase … awareness of this common, albeit largely unrecognized, pathology, which may be easily prevented or improved by means of simple nutritional changes.
What does that mean in non-clinical terms? Well, if you've never heard of "leaky gut" it's a condition where the protective lining of the small intestine becomes compromised by many means including, according to the article, compounds produced by high-temperature processing and high-sugar use in convenience and fast foods. As a result, the "tight junctions" between its cells, that are influenced by intestinal microflora (the stuff in probiotics), inflammation, and what you eat, become relaxed. Then things like toxins, mold, yeasts, and other pathogens invade your bloodstream and other places that they shouldn't be.
What's the bottom line? You get sick … with things like Irritable Bowel Syndrome, Crohn's, and Celiac Diseases as well as conditions as far-flung as Diabetes, Autism, and even Eating Disorders. "Leaky gut", therefore, causes more inflammation and results in even more pathologies. So, when I'm working with clients on identifying food sensitivities, I often say, "it's hard to know which came first … the chicken or the egg. The leaky gut or the sensitivity".
What's the solution? To heal up the digestive system, reclaim those "tight junctions", and pump up the probiotics so that your gut isn't continually poisoning you. To that end, I'm impressed that the article named three supplements … glutamine, probiotics, and curcumin … that can help in the healing process.
Although still at the conceptual level, we feel that much supporting data can be found through the literature to suggest that early use of natural compounds, such as glutamine or curcumin (or a combination of both), and possible probiotics in the near future might represent a simple method to prevent the appearance or aggravation of many chronic pathologies.
I'm impressed because I've been using these supplements for years with positive results. I used glutamine, an amino acid that helps reconstruct gut lining, with my cancer patients to protect them from the ravages of chemotherapy to such good end that, by the time I left my integrated clinic three years later, the research oncologist included it in his latest study model. It also quickly healed the gut of a 17-year-old boy with poor digestion and weight loss that wouldn't do food sensitivity testing.
Curcumin, the active form of turmeric (the spice that makes curry that golden/orange-color), is a potent anti-inflammatory and immunomodulatory agent. Oh … did I mention that about 60-70% of the immune system resides in the gut? Break the gut down and you compromise the immune system too.
And then there's probiotics. We're flooded with commercials touting their praises. They guard those infamous "tight junctions" and keep them close. As well as populating the mucosal lining that protects them. And inhibiting the growth of pathogens and other bad bacteria.
Oh … and did I mention the benefits of an unprocessed diet full of fruits, vegetables, whole grains and beans, and organic meats, poultry, and fish? I know you've heard how great this diet is forever. But it DOES ultimately prevent those problems the article poses. And it IS the first-line defense for most pathologies. Because the substances created by processing foods are minimal in it. And … guess what … you don't even need supplements or other interventions. You can have your all-natural-food cake and eat it too!
Leave Your Comments About The Leaky Gut-Processed Food Connection Below
What's your experience with "leaky gut"? How GREAT is your diet? Do you use anti-inflammatory supplements? What do you use?