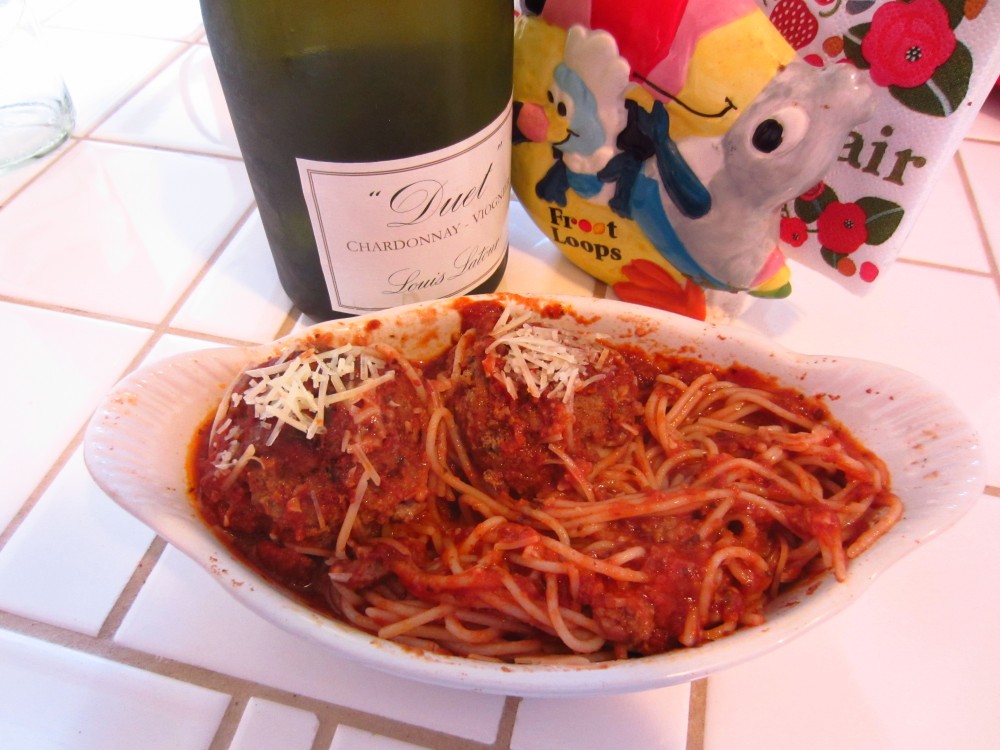 Who doesn't love and often crave comfort-food spaghetti and meatballs on a regular basis. This terrific recipe is almost verbatim from one of my all-time fave online Gluten-Free resources, Nicole Hunn of glutenfreeonashoestring.com. Who adapted it from Fine Cooking. My add-ons ... 1/2 tsp. culinary lavender finely ground in my mortar and pestle (or a spice mill) and added along with the dried spices and herbs at the beginning of cooking as dried ones fare much better with crock pots and long cook times. As well as a finishing of chopped, fresh herbs added 5 to 10 minutes before the end of cooking for a more layered flavor.
Don't be put off by the long ingredient list; they're mostly herbs and spices and the whole thing comes together rather quickly. And the meatballs are unbelievably light and mouthwatering even when frozen! I like to freeze two each (they're large!) with some sauce in individual containers and reheat the amount I need for 2 to 3 minutes in the microwave while my Gluten-Free pasta is cooking.
You CAN use regular Parmesan or another hard cheese but, since I've gone dairy-free, I've been absolutely enamored of (I would kiss it if I could) of Violife "just like Parmesan".  It truly is! Either way, this is an amazing dish ... and one I've been inspired to make this week.  And doing it in the crockpot makes it totally great for those of us that work long hours. Bon appetito!
By Jill Place
Prep: 20 mins
Cook: 6 hrs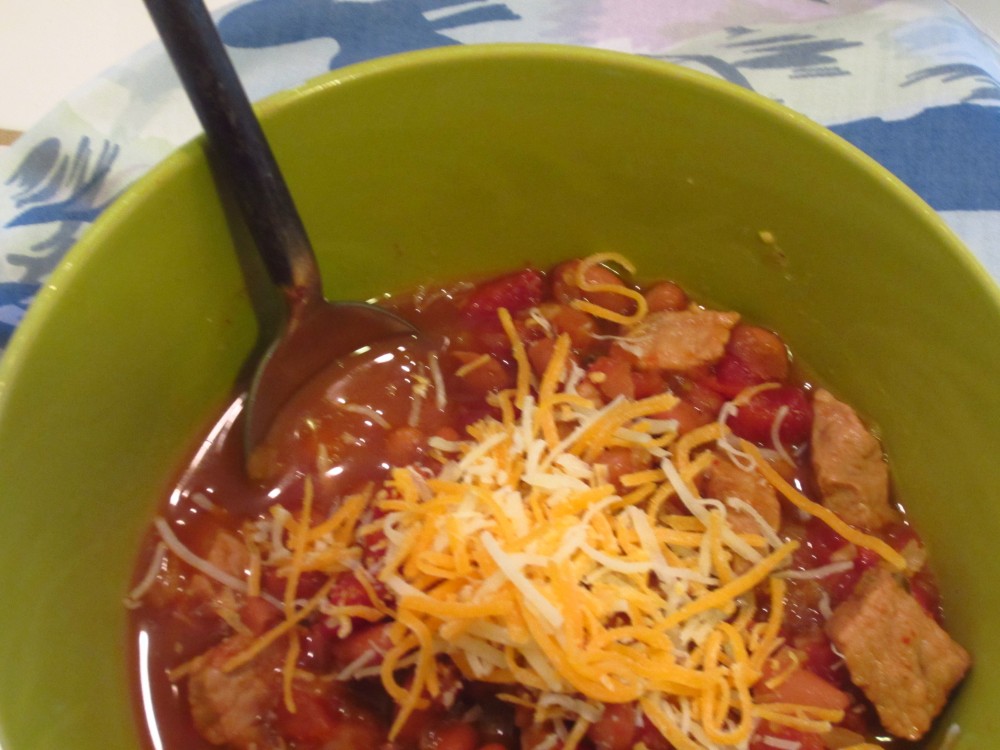 I couldn't believe how easy and fast this Southwestern Pork and Bean Soup came together. And it was delicious too! This recipe, adapted from one from the National Pork Board, is a veritable nutritional powerhouse.
It's low in fat, cholesterol and sodium and loaded with fiber ... almost half-a-day's requirement ... folate, and potassium. And the lycopene in the tomatoes may help protect against heart disease and cancer.
I used, however, not only canned Mexican-style tomatoes but ones with chiles ... and it turned out SPICYYYY! So if you'd prefer a tamer version, use regular chopped tomatoes and a small can of mild Ortegas.
I also crushed the oregano and lavender (I add culinary lavender to EVERYTHING ... it puts that "What-IS-that-flavor" question on everyone's lips) in my mortar and pestle to release their oils. The original recipe called for just chili powder. But I added a bunch of other stuff.
These spices produce lot more layered  aromatics that you can bring out even more with the cheese and cilantro. So Delicious and Follow Your Heart have terrific cheddar and even Mexican Blend alternatives for the non-dairy like me.
I paired this updated take on pork and beans with a slice of Ortega-laden gluten-free cornbread made from a mix and a simple green salad with oil and vinegar. It doesn't get any better than that!
By Jill Place
Prep: 5 mins
Cook: 15 mins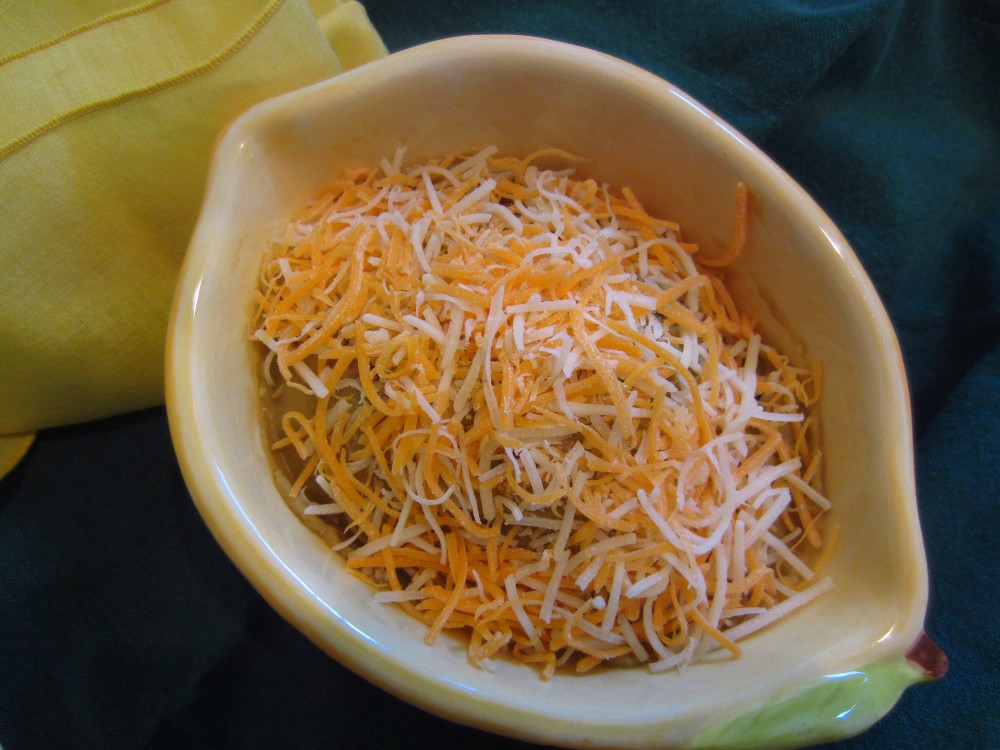 Modified from a yellowing, falling-apart 1976 Mike Roy cookbook (remember him ... one of the very first of TV chefs?), this recipe for Slow Cooker Spit Pea Soup is a total go-to in my recipe repertoire. Not only for its ease of preparation but for its downright deliciousness.  MWAH!
I also love that it can be modified to make it allergen-free.  I'm sensitive to onions, so I substitute fennel ... a little more pricey but ... cooked it has a milder flavor, the consistency of onions and ... I think ... a bit more zip.
I also avoid celery for the most part ... so I just add more carrots.  The regular milk and flour can also be swapped out for gluten- and dairy-free alternates.
I went dairy-free about six months ago (and the eczema on my face instantly cleared up).  I thought I'd miss cheese, but there are so many good dairy-free alternates now that I don't even give it a thought (maybe brie ...).
If you want to try some dairy-free cheeses here, I'd suggest ... for grated cheddar ... Follow Your Heart and So Delicious.  And I couldn't believe that Violife has made a really decent Parmesan (the sliced cheeses ain't too shabby either!)  ... you have to shred it but it smells and tastes almost like the real thing.
FYI ... the ingredients in parentheses may be omitted (like the ham bone) or substitutions made (like 2 carrots for celery, fennel for onion, or non-dairy alternates for dairy).  Modify the recipe according to your own allergies/sensitivities.
However you eat this, I know it's going to be one of your go-tos too.  The sausage gives it a rich, deep, smoky flavor I haven't experienced with any other split pea soup.  Eat it up ... LITERALLY!
By Jill Place
Prep: 10 mins
Cook: 8 hrs