By Dietitian Jill Place, AKA The Queen of Leaky Gut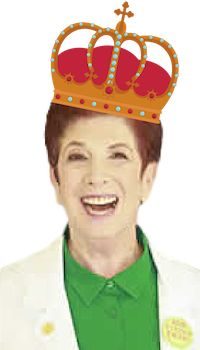 Since I've now been dubbed The Queen of Leaky Gut by a colleague … and started to do Facebook Lives (more on that below) … I felt the need to explain what leaky gut really is. What causes it?  And why it's so important to address it.
Many alternative practitioners (and some enlightened doctors … thank goodness) say "Your Health is in Your Gut!".  It's so absolutely true!
And when I was sitting at breakfast in one of my favorite restaurants yesterday, I started doing the infographic below in the "Why Leaky Gut is So Important" section.  And couldn't stop adding more and more horrible things that leaky gut causes.
When you look at it, you may be as shocked as I did when I finished.  Because on there is every debilitating and life-threatening problem you can think of.
The Good Gut
Here's a terrific ultra-simple illustration of what happens in your SMALL INTESTINE before and after your "gut" starts to "leak".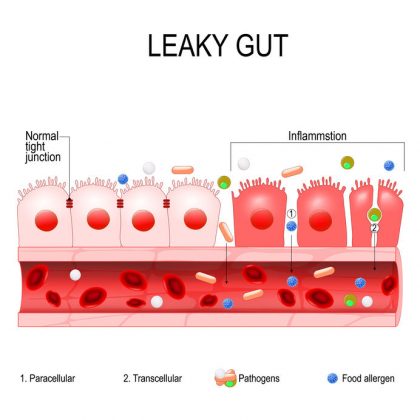 On the left you see healthy cells in the intestine … held together by "tight junction" proteins.  These tight junctions act like tiny filters … allowing only certain things to pass from your intestines into your bloodstream.
Therefore, tight junctions perform a vital balancing act … allowing life-giving nutrients to pass into the bloodstream. And keeping things like pathogens (disease-causing organisms), food allergens, molds, and other things that shouldn't be there out.
Also … the little "fingers" … the villi … at the top of each cell are where nutrients are absorbed.  And … you can't see it … but 60-70% of your immune system resides within your gut too. It's a very busy place!
What Happens When Your Gut Leaks
Leaky gut can actually be thought of as a 'tight junction' malfunction. When you have leaky gut, certain things like allergens and pathogens (toxins, molds, bacteria, etc.) that shouldn't 'leak' into your bloodstream do.
Click To Tweet
And, since the immune system's job is to attack foreign invaders, it begins to work overtime. It also begins to go berserk and attack molecules like gluten that are chemically similar to invaders.  We call this "molecular mimicry".
The end result? The gut not only becomes inflamed because of this over-response but also from the constant immune attack on foreign particles, resulting in autoimmune (body-turning-on-itself) reactions.
The villi also become damaged and unable to absorb nutrients properly to nourish your body. Chronic inflammation results, which is the root cause of most disease.
What this All Means to You
Well … just look at the infographic! Leaky gut … which causes inflammation … causes all the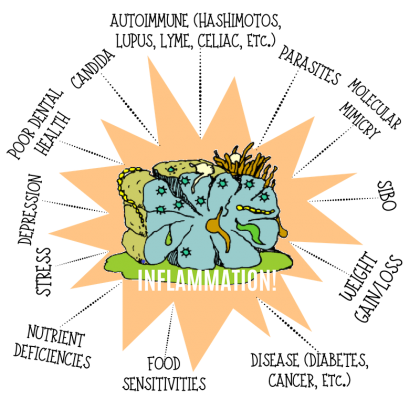 things you see below … and more! If you'd prefer to read the list from Dr. Josh Axe here it is … (not totally complete as more and more problems linked to leaky gut are found  daily).
Gastric ulcers
Infectious diarrhea
Irritable Bowel Syndrome (IBS)
Inflammatory bowel diseases (Crohn's, ulcerative colitis)
Small Intestine Bacterial Overgrowth (SIBO)
Esophageal and colorectal cancer
Allergies
Respiratory infections
Acute inflammation conditions (sepsis, SIRS, multiple organ failure)
Chronic inflammatory conditions (such as arthritis)
Thyroid disorders
Obesity-related metabolic diseases (fatty liver, Type II diabetes, heart disease)
Autoimmune disease (lupus, multiple sclerosis, Type I diabetes, Hashimoto's, and more) (4)
Parkinson's disease (5)
Propensity towards weight gain or obesity (7)
Do Doctors Agree?
Unfortunately,  even though more research has been done pointing to leaky gut as the cause for just about everything, doctors still disagree about it.  One of my colleagues shared just yesterday that a doctor's denial of it was almost rabid.
I can understand that as the concept of leaky gut shakes the very core of their medical model, have-a-symptom, take-a-pill mentality. And the fact that it takes up to 20 years for doctors to change their minds about things.
But the sad truth is that we don't have 20 years.  Autoimmune and toxic overload problems are sharply on the rise. And people are getting fatter than ever … another consequence of leaky gut that doctors haven't yet acknowledged.
The Reality of Leaky Gut Treatment
The reality is that there are no standard diagnostic tools for testing and treating leaky gut. Or specific treatments available as those of us that treat leaky gut practice root-cause and individualized medicine.
So most MD's play it safe, follow their training … which may be many decades old … and prescribe drugs that treat leaky gut symptoms like acid reflux or diarrhea.  Sadly, they don't solve the problem.
So … where does that leave us? Insurance only pays for the stuff that doesn't work for leaky gut.  Which leaves us with two alternatives … self-treat and spend much time (and money) picking trial-and-error treatments that eventually fail.  Or pay beaucoup bucks for an alternative practitioner.
Which do you choose?
I'M LIVE WEDNESDAYS AT 6!  Yes … I'm doing Facebook Lives now every Wednesday.  So just go to https://www.facebook.com/DietitianJillPlace/ at 6pm this week and there'll I be!