By Dietitian Jill Place
I couldn't believe it! All that talk I keep doing about how GREAT fermented foods are! And along comes a REAL study in in a REAL peer-reviewed journal that just about proves that fermented foods are better than fiber for good gut health.
Yes … a July article in the Journal, Cell, called "Gut-microbiota-targeted diets modulate human immune status", shows that (right out of the summary)
'a fermented-food diet increases microbiome diversity and decreases markers of inflammation'.
Click To Tweet
More than 10,000 microbial species occupy the human ecosystem. And researchers now have a very good idea of what is normal for a healthy Western population. And are beginning to learn how changes in the microbiome correlate with physiology and disease.
This abundance of microbes contribute more genes responsible for human survival than humans contribute. The human genome carries some 22,000 protein-coding genes. But researchers estimate that the human microbiome contributes some 8 million unique protein-coding genes for proper functioning too. Or 360 times more bacterial genes than human genes.
In other words, you need alot of different kinds of bacteria to be healthy. But our Standard American (SAD) diet that's high in fat and sugar and low in fiber can kill certain types of good gut bacteria. Therefore making your microbiome less diverse.
And sometimes inappropriately widely-prescribed antibiotics can wipe out ALL your healthy bacteria. While it's trying to get rid of the bad bacteria. Did you know it takes SIX MONTHS to get your microbiome back to normal after ONE BOUT of antibiotics? UGH!
Not to Mention Inflammation!
I've often called people's attention to a 2004 Time Magazine article entitled "The Secret Killer: the surprising link between INFLAMMATION and HEART ATTACKS, CANCER, and other diseases". I was so knocked out by it that I bought the cover, framed it, and it's behind me on my right wall if you've ever seen my Good Gut Show.
I bring attention to it because inflammation is a HUGE topic today. It was splashed across that magazine cover almost twenty years ago, is accepted as a problem by the medical community, and has even been linked to COVID-19 severity.
An article published in the journal, Nutrients, stated that "several significant risk factors for severe COVID-19 infection" included …
the presence of poor nutritional status and pre-existing noncommunicable diseases (NCDs) such as diabetes mellitus, chronic lung diseases, cardiovascular diseases (CVD), obesity, and various other diseases that render the patient immunocompromised. These diseases are characterized by systemic inflammation, which may be a common feature of these NCDs, affecting patient outcomes against COVID-19.
So … I ask you … WHY is that not being addressed by the medical community at this time? WHY is the focus solely on vaccines?
Back to Fermented Foods …
and this study. This was the purpose … explains Christopher Gardner, co-senior author of the new study, "We wanted to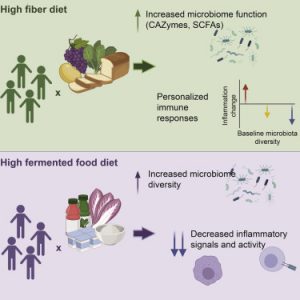 conduct a proof-of-concept study that could test whether microbiota-targeted food could be an avenue for combatting the overwhelming rise in chronic inflammatory diseases".
But they expected the people getting the high-fiber diet would fare much better in repopulating the microbiome. Boy … were they in for a surprise (I love it when a study turns the tables on researcher bias)!
Said Erica Sonnenburg, another co-senior author of the study, "We expected high fiber to have a more universally beneficial effect and increase microbiota diversity. The data suggest that increased fiber intake alone over a short time period is insufficient to increase microbiota diversity."
The diagram above is directly from the study. The high-fiber diet DID increase microbiome function but not diversity.
But the inflammatory response was mixed … it was increased in some subjects and decreased in others. Bottom line … the high-fiber diet had little effect upon inflammation.
But check out the high fermented food diet above. Not only did fermented foods increase diversity (which is what we want), THEY DECREASED INFLAMMATION!
Researchers concluded that fiber may have some beneficial effect long-term. But the fermented foods totally exceeded their expectations in 17 short weeks!
Researchers concluded, 'Fermented foods may be valuable in countering the decreased microbiome diversity and increased inflammation pervasive in industrialized society'.
Click To Tweet
No kidding … I personally coulda told you that!
What's Next for Fermented Foods?
Unfortunately, one study does not a radical change in people's minds make. I loved the PSA that Kentucky coach, John Calipari, made the other day.
I talked about it on my Good Gut Show just yesterday. In the PSA, he's begging people to get vaccinated. And on the desk in front of him is a can of Coke!
I had to laugh … it was such a disconnect! Or maybe not … people haven't gotten that as important as vaccines is boosting immunity so that we can triumph over these viruses long-term. Because they are not going away …
There's been tons of research since the beginning of the pandemic that boosting immunity is a good thing … that the virus decreases immune response (like most viruses do) in an already immune-compromised population. Remember … 80% of us have leaky gut⇒inflammaton⇒poor immunity.
But … except for my community … NO ONE'S TALKING ABOUT IT! And I always say … "Start your journey toward health (and great immunity) with fermented foods …"
Go Get It!
C'mon … how much effort could it be to buy some yogurt and take a spoonful (make sure it has active cultures). Or drink a bottle of kombucha. Or enjoy a pickle or forkful of sauerkraut?
I think very little! Boy … I just had a glass of homemade (there's recipes for fermented foods on this website in the "recipes" section … but you don't have to go that far) coconut water kefir with dinner yesterday. And eliminated just fine this morning (I've had trouble since my 20's).
And now we have research that supports all that stuff. Yeah … this is only one study. But I guarantee that, now that it's flummoxed researchers, there will be many more.
Fermented foods have been part of cultures worldwide for thousands of years ... way back to ancient Egypt. We gotten away from them with heaps of sugar, fat, and plastic-fantastic food in our modern diets.
Click To Tweet
C'mon … go get some yogurt! Your gut will thank you for it. And now we've got the research to back up why it's so great for you!
And … c'mon … isn't it terrif too?