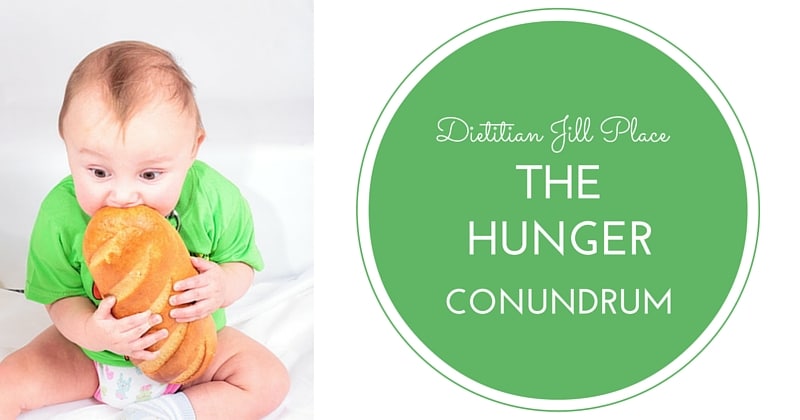 Can Hunger Consciousness Really Stop Overeating?
I've read all the books about intuitive (conscious, normal, yadda, yadda) eating. I've used all the principles with clients. And … quite frankly … have had mixed results.
Now I realize that change takes effort and time. And, as I'm always telling my disordered eating clients, daily practice. As it's not usually a big leap that causes change. It's small steps towards big wins and an ultimate pleasurable end. The Japanese call it Kaizen … their word for "improvement".
One small step I've used for years is the intuitive eating hunger rating scale. It's not a new idea. Quite simply, you rate your hunger on a scale of zero to ten … zero means starved (like how you feel when you don't eat for a day) and 10 … stuffed like a Thanksgiving turkey. I've always encouraged my clients to start eating when they're a 3 or 4 on this scale (5 is neutral … neither hungry nor not hungry) and stop when just satisfied … about a 6 or a 7.
Sounds easy … right? Well, the weird thing is that no one did it! A tried-and-true practice. And no one did it! I began to wonder if I had taught it wrong. But I'm good at getting concepts across. After all, I was once an elementary school teacher. So what was wrong?
I didn't know until I went to this nutrition and behavior change summit last weekend. And one of the presenters said that waiting to eat until they're hungry for compulsive overeaters "is problematic". It was as if someone had hit me upside the head with a sledgehammer! I began to understand that there was a fatal flaw in the old way of eating to your hunger. PEOPLE WHO COMPULSIVELY OVEREAT ARE JUST TOO SCARED TO WAIT UNTIL THEY'RE HUNGRY TO EAT. Or they just don't know what hunger is in the first place. Even though we nutritionists give them elaborate tap-dance explanations about it.
Then it dawned on me. THE BETTER THING MIGHT JUST BE TO EXPLORE FULLNESS. That means there's no restrictions on when you begin to eat. But, instead of chowing down mindlessly, be aware of what might be defined as "satisfied" for you. At the summit, the CEO of Precision Nutrition proposed tools such as putting your fork down between bites and only eating 80% of your meals. They're good strategies, but I instead would prefer you to find out what the word "satisfied" really means to you.
So … I propose this … eat whenever you want. But gently assign a number to your current hunger level. For example … returning to the concept of the hunger scale … if you start eating when you're a "5", how many bites will it take until you're a "7"? Wouldn't it make more sense … most of the time … to eat a smaller portion, an appetizer, or …. horror of horrors … a small salad if you're not truly hungry. And hey … don't worry … you can eat more or something else later. But I've learned that, if you master this awareness skill, you're a lot less likely to overeat. Here are some other ways to explore fullness …
Use the "mySymptoms" app to rate it. I'm loving this app more and more (and so are my clients) as you can not only record what you eat but add "Hunger" as a symptom and rate your level right on your phone or tablet.
Find what fullness means in your own body. If you're not into apps and rating scales, begin to notice how you feel when you put food into your body. And when you're really full. Is it comfortable? Is it not? If you backed off a little on how much you eat, would you feel better? Put your hand on your belly as you eat and feel its fullness. At what point does the idea of "satisfied" apply to the way your body feels about how much you eat?
There's someone who blindfolds people to make them more aware of their other senses when it comes to eating. These people find that, if they cut out the input of one sense while eating, the others become more acutely perceptive about it. And, as a result, they eat less. I never want to be blindfolded in a restaurant as he does. But the idea of becoming more mindful of what you do when you eat and how your body feels when eating different kinds of foods may help you eat less as well as define fullness for you.
Learn the difference between "mouth hunger" and "stomach hunger". This is another old intuitive eating idea. But one that might be worth revisiting. Many people eat just to eat. They see something and eat it. Or are offered food and take it. They never stop to think, "Am I hungry now?", or even "Do I really want to eat this?" They think things like, "I have a taste for …" instead of "I'm really hungry. I think I'll have …".
I'm constantly being asked, "Don't you want to eat?" The answer most often is "No!" Because very rarely do I eat to my mouth hunger, which is eating when you're not physically hungry. You can't wish this type of hunger away, because it's often a coping life-skill, but you can become more aware of it and, at some point, may want to give it up. It's often a wake-up call that you're using food for other reasons than hunger. Mouth hunger can also be a red flag that you're using food to stuff down your feelings. To figure out why you're eating this way, you might want to ask yourself, "What am I thinking (or feeling)?" when you eat. And then, to get a further handle on this, use the "mySymptoms" app on your phone to rate these feelings when you're eating. I added "Anxiety", "Depression", "Tired", and "Happiness" to mine. As those are the main reasons I eat when I'm not hungry.
"Stomach hunger" is true hunger … when you feel that nagging gnaw at the pit of your stomach. Sometimes, when you become more aware of your whole eating process, you actually allow yourself to get to this place. Most compulsive eaters, however, never get truly hungry.
If you continually overeat … There may be some kind of issue with the way you use food to soothe or stuff things. And perhaps all the strategies we just discussed, as good as they are, may not work on you. You could be an emotional or stress eater. Food could be your primary friend. One that you hate but can't leave. If that's the case, perhaps we should talk. Because if you're trying to embrace your hunger and eat less but it's just not working, you need a whole lot more help than just becoming familiar with your hunger.
Leave Your Comments About The Hunger Conundrum Below
Have you ever tried to notice your hunger to control your eating? How has that worked for you? What other strategies have you used to become more aware of your hunger and fullness?