By Dietitian Jill Place
Positive Change is the first piece of Your Good Gut Blueprint pie. If you haven't read that article yet, click on the name to do so.
As it gives you an overview of the whole pie … the things you need to do (and the results of those things) to change your health for good!
Because almost all immune, autoimmune, and a host of other health problems begin in the gut.
Leaky gut is responsible for up to 80% of what ails us.
Click To Tweet
Our normal gut is genius for filtering into our bloodstream good stuff that we need … nutrients, vitam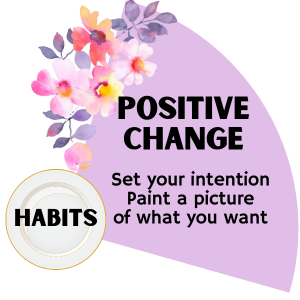 ins and minerals, and other nourishing stuff. And filtering out bad stuff … chemicals, toxins, molds … yadda yadda.
When our gut "leaks" … fails to function properly … all those chemicals, toxins, molds and who knows what else … leak into your bloodstream. Which activates your immune system.
Inflammation results. And even doctors will agree that inflammation is the ROOT CAUSE of most health problems. So wouldn't it make sense to heal the gut first to prevent all that?
And change some stuff in your life to make that happen? Yeah … yeah … I know … change is hard. But sometimes we just HAVE to do it. Consider …
The Perks of Positive Change … Good Gut Version
Healing your gut has these positive things going for it!
No gas, bloating, digestive upset
No diarrhea or constipation
No joint pain
No thyroid problems
No brain fog, lack of concentration
No exhaustion
No depression or anxiety
No skin rashes and problems such as acne, eczema or rosacea
No sugar or other carb cravings
And … YES to weight loss
… and the list continues. Also … if you've developed an autoimmune disease like Hashimoto's Thyroiditis, Lupus, or Rheumatoid Arthritis … THAT list has now grown to over 100. But there IS a solution. Healing your gut first …
My Positive Change Story
It wasn't that I had a bad childhood. Actually … it was probably happier than most.
But I was the odd kid who hummed show tunes (had singing lessons from age 8 compliments of mom … who couldn't carry a tune). And took scripts from musicals out of the library to read (and act out) under the covers late at night with a flashlight.
I went to college as far away as I could (Hawaii didn't have a drama program). Again … more oddness. It was the 60's … so not only was I coming to terms with a profession that was pretty impossible … I didn't have the emotional tools to deal with the complex life that I had chosen for myself.
TO compound that … in my 20's I had a massive infection from an IUD and equally massive antibiotics for a WHOLE YEAR … which pretty much wrecked my gut and set me up for years of pain, anguish, and never knowing if I could … for want of a better word … "go".
So it's no wonder … after years of not becoming a star and exhausted from auditions that went nowhere … that I turned to a profession that would ultimately help me heal my gut. Which … I think … was my journey in the first place.
But the acting training gave me amazing tools to fix my life. Like awareness, mindfulness, and coming to terms with my emotions. I am forever grateful for those gifts.
My Nutrition Training …
however, didn't prepare me for my ultimate role as a Functional Medicine practitioner … but did give me … in an indirect way … the scientific know-how to deal with my gut problems.
You're probably wondering why I say that. Well … even before I became a dietitian I worked with Harvey and Marilyn Diamond, the authors of Fit for Life … a diet sensation at the time. And … I do think looking back … legitimized all the healthier diets that came after it
Through running huge seminars for them, I saw firsthand the profound impact diet change had on people … change that actually healed them from all sorts of problems. Being a dietitian meant … instead … being relegated to a minor role under a doctor who knew nothing about the power of foods (and still doesn't to this day) or supplements to heal.
But that was OK … I had the certification so people thought I knew something. Instead, I started out on a journey to understand the power of targeted nutrition on healing; I started learning about Functional Medicine.
I was one of two dietitians in the room back in the day at Jeffrey Bland … one of the fathers of Functional Medicine … lectures. I became closely aligned with Metagenics (the top supplement company at the time) before they sold out to Amway … and had a direct line to their top research scientist when writing my book, Supplement Savvy.
Now there are many Functional Medicine courses. And many other supplement companies. Then we were lunatic fringe. Now … not so much.
But … in the long run … I was right!
We need targeted nutrition to heal the gut. And even more so these days ... As well as tools to heal the mind and soul to enable that change.
Click To Tweet
Which brings me to …
The First Positive Change Step: Finding Your Heart-Reason
I already wrote about this in an article called Setting Up YOUR Health Self Experiment. It's called "finding your Heart-Reason". You can read the entire article … as a matter of fact setting up a health-self experiment is a great way to start any change … but I'm reproducing the process here.
What's a Heart-Reason you ask? First … let's not confuse "reason" with "purpose". A purpose is a contemplated or realized accomplishment, like writing a book or losing 50 pounds. A reason, however, is a deep, unerring trajectory towards your ultimate sense and sensibility of being around that purpose. I also call it "The POWERFUL Why".
It's the "why" that makes sense of the "what". If that sounds a little Woo-Woo … it kinda is. Because it's about finding that inner a-ha to propel you forward towards a resonance with your purpose. And it's impossible to accomplish your chosen purpose successfully without it.
It's been my experience … both personally and with my clients … that if they have no concrete reason to change … they won't. One of my clients just the other day said she's doing well with her running. She's doing well because she's training for a 5-K … a deep reason for her to do so.
She gets up every morning excited to run because she's found her "Heart-Reason" for doing all this. Taking it a step further … I encouraged her to find and set a date for the 5-K run.
Is Healing My Gut What I Really Want to Do?
Now I'm asking you to heal your gut … which may seem that I'm imposing a reason upon you when you don't really want to do it. But this task isn't for everyone.
Although I can't imagine why you wouldn't! About 70% of Americans today are worried about their health and health care.
And … if you're reading this article … you most likely have the mindset already that healing your gut might be a good idea. So let's begin …
The Second Positive Change Step: Be Brutally Honest with Yourself
Don't distract yourself with frivolous reasons. They suck as bad as wanting to lose weight to look good for an event … no matter how important the event is. And you COULD go on this way your entire life never hitting on the REAL reason for want to do something life-changing.
So cut the sh-t and figure out your powerful WHY for healing your gut. Think of the reason not as a gentle shift but as a rousing rebellion against a life lulled by complacency and the dull destiny of genetics and environment.
You have to look beyond the obvious and the mundane and really find that revolutionary reason that will make your life rich and worth living. Oh … and a little hint … you'll know when you get there when the feelings start flowing.
A way to do this is to …
The Third Positive Change Step: Question Yourself
To start, you might want to get a pen and paper (or journal) or DOWNLOAD THE WORKSHEET I'VE PROVIDED FOR YOU HERE …and write answers to the following …
What do I want to change about my health?
What am I willing to do in order to get what I want?
How much work, time, and effort am I willing to put in every day?
That's a good beginning. Now go deeper and ask yourself …
What makes me come alive?
How do I add the greatest value to whatever I do?
How will I measure that my life has been well-lived?
THEN ask about your reason for whatever purpose you'd like to explore … in this case healing your gut …
What do I want to do to make my life (health/gut) better?
Why do I want to do that?
Is that true? If not, why do I want to do that?
Is that true? If not, why do I want to do that? …
Continue in this way until the angels (or whoever you picture) start singing ( or whatever they do). Or until you answer "yes" to "Is that true?". Then do yourself a favor and …
The Fourth Positive Change Step: Visualize What You Want …
Once you have a hint about what your Heart-Reason is, it helps if you also visualize it. If you don't know what that is, all you have to do is to find a quiet place, sit or lie down, close your eyes, and see (or feel … some people don't visualize well) a scene where all your dreams come true around this particular purpose and reason.
Here are the elements of a good visualization …
Have a clear idea of what you want (your purpose)
Describe it in great detail (write it out, record it, and play it back)
Start visualizing and feel the feelings (ask yourself … what would I feel if this was true now … the reason)
Do it every day (take some time to do this and allow joyful feelings to flow freely)
Persevere (it takes time to create what you want … don't give up!)
I've cut through all that work and made a special audio just for you. It's based upon one of my favorite visualization techniques … the "Mental Rehearsal".
Unfortunately … the cyber-glitch fairy prevailed this morning and I wasn't able to upload it in time. Cyber-glitch technicians are busy working on it as we speak and tomorrow I should have it up … watch for news of it in The Good Gut Show!
The Fifth Positive Change Step: Write Out Your Gut-Healing Heart-Reason
Years ago … when I was teaching acting … I taught a very successful class in actor-branding. The whole purpose of the eight-hour workshop was to define in just the right words an actor's essence … not only what they were good at acting-wise but what deep soul-self they manifested.
In other words, they were finding a reason for their purpose … acting. But I made them be very specific in their wording. One part of the final statement they wrote was the brand (one was "Sophisticated Samurai with Ex-Acting Edge" … the purpose) and the other was a deeply-felt statement of why they wanted to act (the reason).
Even in a room of 10-15 incredibly supportive actors, one woman … who had just played Gertrude to some big star's Hamlet on Broadway (i.e. The Actor's Mecca) almost bolted from the room.
I stood in front of her. "Don't leave NOW!" I blockaded … then bellowed "WHY DO YOU WANT TO ACT???" Startled, she blurted … "to strip the mask away". My body and voice relaxed … "You got it … sit down!" Even the successful actress was so frightened to state her reason that she was willing to desert herself.
Framing Your Heart-Reason
Why am I telling you this? To caution you not to desert yourself just as you discover a Heart-Reason for your gut-healing journey. It could be as simple as:
"I want to feel better (make it positive) now (add a time-frame or just put it in the present)" OR
"I want my gas and bloating gone now" OR
… as complicated as:
I am healing my gut day by day, am free of Chronic Fatigue Syndrome, and have tons of energy now OR
I see myself free of joint pain from Rheumatoid Arthritis in one month or less OR
I am healing my gut day by day so that my children will have an active, healthy, father (mother) well into my 80's or 90's
A Final Word …
If you've read Your Good Gut Blueprint … and I recommend that you do … you'll see that Positive Change is both the BEGINNING and the END of your gut-healing journey. The beginning because you're stating your need to heal your gut in deep terms that will carry through the whole process.
And the end because the blueprint is like an upward spiral. The more you travel around the "pie" the easier it gets and the more able … and eager … you are to make more improvements in your life.
Remember … those first steps you took as a tot were hard too. You may have video of yourself … or your children … falling lots before they walked. Watch it often when you feel the need to desert yourself …