Sweet Tooth? No GF Prob!
I finally got the verdict! I HAVE to be Gluten-Free. FOREVER! When I eat gluten, it just messes me up. So I renewed my vow to eat that way. After all, I DID write the book on it!
Going Gluten-Free, however, doesn't mean you have to give up sweets. As a matter of fact, I couldn't SURVIVE without them. You also don't have to spend hours slaving away in the kitchen. Because here are some FABULOUS sweets right out of the box.
Now … let me caution you about these. They're Gluten-Free but not necessarily "healthy"; some are made with refined flour, cane sugar (I'm sensitive), and oats (ditto). But they're about as "healthy" as any other confection. And great if you have to Go Gluten-Free.
The Piping Gourmet Whoopie Pies
I'm a HUGE fan of these and they come in 5 flavors, although my Whole Foods only stock two; I'll have to try the larger one in South Pasadena. Check out their website for a store near you. If you love a thick layer of frosting between two delectable pillow-soft cookies, these are the ticket.
Udi's Chocolate Chia Muffin Tops
These are delectable and chewy (the chia?). I like the fact that they're not a full muffin either as I can never eat a whole one, especially the humongous ones they're selling now. Udi's makes a host of baked goods including muffins and other bread stuffs as well as my fave bagels.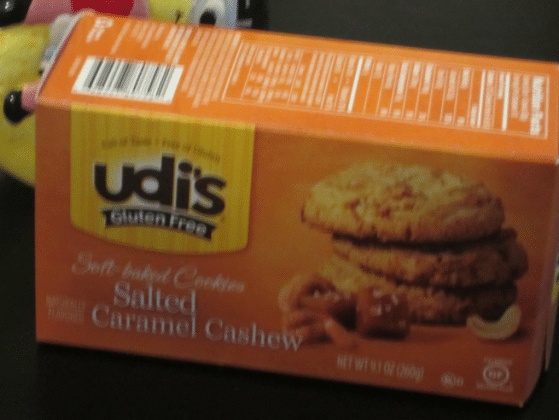 Udi's Salted Caramel Cashew Soft Baked Cookies
Udi's also makes cookies in many flavors and these are my all-time flavorful faves. They're very soft but don't crumble like a lot of Gluten-Free cookies. Also, they're big enough to be satisfied by just one. They also come in a Maple Pecan Chocolate Chip version but this is my fave.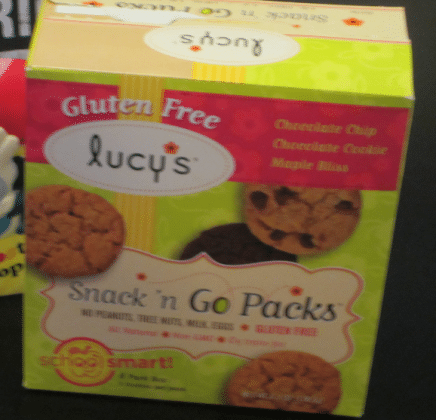 Lucy's Snack 'n Go Packs
If you miss those snack-packs of cookies, here they are Gluten-Free. I love all of them … the Chocolate, Chocolate Chip, and Maple Bliss, which made the choice much easier. These do contain oats, so if you're sensitive stay away. Lucy's also makes a host of other Gluten-Free goodies that you might like.
Annie's Cocoa and Vanilla Bunny Cookies
I know it's a long way to Easter but these are a staple of my pantry shelf for a quick snack. I guess I miss animal crackers, which I loved when I was a kid. Your kids will love these too! I like then because they're so small I can pop a few in my mouth to take the edge off when I'm making dinner or need a mid-afternoon pick-me-up. Annie's also makes a host of other Gluten-Free goodies as well as entrees and other snacks.
Pamela's Chocolate Grahams
If you never outgrew graham crackers as a kid, these are for you. Did you know that graham crackers were originally considered a "health food" at the beginning of the healthy lifestyle movement of the 1800's? These are pretty healthy too … some of the sugar has been replaced with honey and molasses. I love to eat them as-is, but they're also great as a crust for pies and cheesecakes. And they make absolutely FANTABULOUS S'mores and ice cream sandwiches. And speaking of ice cream …
Edward & Sons Let's Do … Gluten Free Sugar Cones
If you love ice cream and gotta have it you'll love these … although the sugar cones do crumble more than their regular counterparts … be careful loading ice cream on them. Joy cones also has a Gluten-Free version, but I've never seen them in stores … I had to order them. I can't always find these in stores either but when I do I stock up.
So what do you do for a Gluten-Free sweet tooth? Can you share it below as I'd love to know.
Leave Your Comments About My GF Faves: Cookies and Other Sweet Things Below
What are YOUR fave picks for a GF sweet tooth. Can you share them with us? Pics would also help.