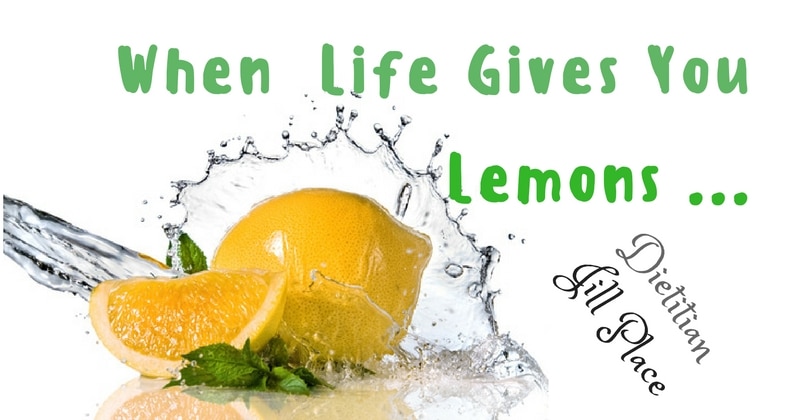 Breathe, Punt, and Regroup
I've often wondered what "make lemonade" means to others. Me … I just try to structure my life these days so not a lot of things bother me. Also, not a lot goes wrong in my life BECAUSE I structure it. But when the whole structure squirts all over my face … OY VAY …
Let's face it … very little is in our control. Not even ourselves sometimes. I had to justify my presence at one of my consulting jobs, did what I was told at another only to be criticized for it, had my electricity (and air conditioning) turned off for a whole day in 95-degree heat, and had at least a few other unfortunate things happen in the space of a few days. Heat and stress also cause me sleep problems. I don't sleep well anyway, but it's even worse at times like these. Needless to say, I ended last week as one tired, frustrated, "hot" mess who walked out an hour early on yet another chaotic, noisy, impossible consulting venue.
Now I know chaos prevails sometimes. You can't cruise along an unencumbered highway all the time. It's just not possible. So when it feels like you just want to wring someone's neck or punch a hole in the wall …
BREATHE. I used to have panic attacks. When I was acting, they got so bad that I sometimes cowered on the floor catching scant breaths. Then my coach took me to Kundalini Yoga. And I began to learn the magic of the breath.
Actually, after doing Kundalini, Hatha, Karate, Tai Chi, and varied and sundry other deep-breathing disciplines, I came up with a very simple way to use breathing in-the-moment when panic begins to strike. I just breathe in fairly slowly about three-quarters of the way (taking a fast, deep breath can shock the nerves and make you even more jumpy), then hold for a gentle two counts, then breathe out. Do this three or four times and it'll extricate you from that funk and froth that you're in.
As a matter of fact, I yelled, "BREATHE" out loud to myself whenever I felt that old panic-tightness rise in my chest. And did two things consistently … one, I trained myself to identify the beginning of an attack and two, forced myself to breathe. Removing myself from a potentially hazardous situation like the one a few days ago didn't hurt either.
I can't remember the last time I had a full-blown panic attack. Even with the awful week I had. I wasn't happy, but I got through it. So when life gives me lemons, I breathe and …
PUNT. I really like this word as it can mean many things. It can be defined as to kick or hit something as far and hard as possible. As well as intentionally connecting with and striking something softly. It also means to delay or put off something as long as possible. As well as to kick an astray ball before it hits the ground.
In human terms, when you have a terrible, horrible, no good, very bad day, you don't have to deal with the fallout right away. Instead, you can delay until you're ready to muster the energy and fortitude to calmly deal with whatever the problem presents to you. Then you can take baby steps by punting it softly. Or take a big leap and whack it as far as you can.
So you have a choice. Lay off … rest … remove yourself from the situation for a while. Then connect with it gently. Or fiercely. You can even keep it in play if you feel up to it. It's your choice how you spice or sweeten your lemonade. And then, of course, you can totally …
REGROUP. I made some hard decisions this month. I quit an almost nine-year column. I loved doing it but totally forgot to write one last month after faithfully penning over 100. And literally saw that the handwriting wasn't on the computer. Or the wall either. It was time. It hadn't gotten me any business or visibility in years. And I wanted be free to write other things that did.
I also let go of an equally old friendship. We had drifted apart and he became angry over wanting things to stay the same. I however had grown and wanted things different. The saying "You have friends for a season, a reason, or a lifetime" sang in my head. I guessed that ours was only for a season.
It's scary when you regroup. Letting go of things can leave you needy and disoriented. But … oh … the possibilities when you erase the slate clean. I'm so excited now to begin new projects and make new connections. Perhaps I can even ditch the crazy consulting jobs so I won't have those horrible no-good days anymore. I'll just have no-good days of my own making. The reality is that sometimes we all do.
Whether you totally regroup, or just rearrange part of your life, terrible very-bad days are often a red flag that something has to change. Even if it's just a tiny thing. The bad feelings and discomfort won't go away unless you do. So go for it. Make a new pitcher of lemonade. Honey? Sugar? Stevia? Mint? Grenadine? What's YOUR pleasure?
Leave Your Comments About When Life Gives You Lemons … Below
What do you do when you have a bad day or week? Please share your strategies for reducing overwhelm and getting back on track.