By Dietitian Jill Place

I haven't had much faith in the medical model to heal most of what ails me (except my broken ankle) for years. As a result, I've been taking supplements for immunity for years too.
One of my doctors recently told me … "I know one other person like you!" What he was saying was that he only knows only one other person healthy, not taking medication (less than 10% of people my age don't), and starting new projects in their 70's.
I must be doing something right! And my diet isn't always perfect … I'm a sucker for an occasional really good hamburger and fries (gotta be fresh … not frozen) or dim sum feast (one of the best in L.A. is a mere 3 miles away).
So it must be partially the supplements I take. Supplements that are targeted to my unique needs.
Instead of the medical model, I've been practicing the concept of Functional Medicine both with my clients and myself for years too. It's … very simply … about healing the whole person … body, mind, AND spirit … from dysfunction before it becomes disease.
I used my Functional Medicine expertise quite successfully while working in an integrative cancer center 15 years ago. You see … aggressive cancer treatment literally destroys the immune system.
And so much of my work there was about resurrecting and repairing the gut and … within it … the immunity. Both are the moss-laden main-stone of Functional Medicine. And our health.
I wrote textbook chapters and spoke all over the world about supplements and their powers to heal … especially in those instances, like cancer, when both the treatment and the disease radically assault the body.
What's Life Today Got to Do with Cancer?
Then, we were dealing with immune systems ravaged by treatment. Then, our patients needed more than just simple diet changes to bring them back to good health.
Now, because our environment is so toxic, we're doing the same thing with so-called "healthy" people. Now, we're bothered by innocuous things like gluten, dairy (I ate copious amounts of both as a kid), mold, and non-stick pans.
We had no overabundance of glyphosate, BPA, or POFAs then. The year I graduated from college, someone in the movie, The Graduate, urged the main character to consider "PLASTICS" as the next best thing. Little did we know that … years later … this next best thing would make us sick.
In short, it's going to take more than a few green veggies to get us back on the path to health. Even if we ate the most pristinely organic-pure food (and there's nothing like that today) on earth.
So though eating well is a great first step, we have to consider other things like nutrient deficiencies and healing our guts before some of us are better. Sometimes it's like this huge 1000-piece all-red puzzle we practitioners (it's very difficult to DIY with these types of problems) have to piece together.
Because people manifest dysfunction and leaky gut differently. As Alice said,
Sometimes we must go a long way out of our way to come back a short way correctly …
What to Do …
Remember the 1000-piece red puzzle? Putting it together sometimes means clients do have to go a long way out of their way to get well … Here's two little stories about mine …
I had seen Cora (not her real name) last year for some feminine and candida problems. And was somewhat successful in healing them.
But she spent six months out of the country eating croissant and pasta. And came back not feeling great. To make it worse, when we began the same treatment she was on before she left, she got really sick.
So we had to go back to square one. I encouraged a strict gut health diet (get it at the bottom of the page or wait for the popup). And the following supplements … and reasons for taking them.
Oh … and here is my exclusive protocol … the one I use myself. It's worked so far … I'm virus-free … and I'm still working on the front lines in health-care facilities …
Changing pH
An alkaline body environment is terrific for health. Not only should the body BE naturally alkaline (with a pH between 7.0 to 7.5 if you're testing saliva) … an alkaline environment puts the kebosh on candida, parasites … and other invaders that I fondly call "The Yeastie Beasties".
And provides an environment for healing. There are two main things that make the body acid … 1) diet (sugar, wheat, processed foods, lots of meat, coffee, alcohol, soda … you get the drift … most of what we eat today) and 2) stress (Click here to read the whole article I wrote about that).
Here are some supplements that can rebalance you. And remember … all of the supplements that I'm recommending are my personal picks … and that the concept of Functional Medicine is about INDIVIDUAL DIFFERENCES.
Not every supplement will work for every body. And these might not work for you. My advice … go to a Functional Medicine practitioner that knows his/her stuff. But
if you can't you might try these …
pH Strips
No … these aren't a supplement. But a way to instantly find out what your pH is.
Alkaline (between 7.0 and 7.5)? No worries! But most of us aren't. So test at least twice a day for a week to get an average. And follow package directions for testing.
If you're too acidic (below the numbers above), you might want to try the following …
Ultra Gre

ens pH
I love the fa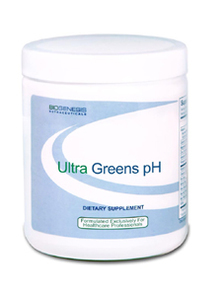 ct that this has just about everything your body might want to get healthy. Including sea and land vegetable extracts. No … no supplement can replace a good diet.
But … if you like smoothies … and we're getting into warmer days so I love starting my eating with one … this is a great addition. I even have a recipe for a super one with other ingredients that you may like.
Or just mix it with water.
Optimal-pH
This may seem like a bit of overkill to you … but I'm sold on the fact that I can throw this in my purified water bottle or glass (LOVE my AquaTru water purifier and you can get it for $150 off here) and go.
Oh … and start your day with lemon water. It's the best natural way I know besides changing your diet, reducing your stress, and drinking pure water to alkalinize yourself. That's why it's on the cover picture of The Love Yourself Lunch Bunch … my Facebook group to help 1000 humans change their health one meal at a time.
Drainage
Many of my colleagues believe that dealing with drainage is the first thing to do for your health. I agree … as rebalancing pH and boosting immunity can stir up toxic waste that you want to quickly rid yourself of.
Your body will begin to throw off toxins once you start to balance it and may leave you ill. That's why Cora got sick. And that's why a well-meaning mom I worked with recently literally poisoned her young daughter (she ended up on a tube feeding) by cleaning up her diet.
The mom was naturally dumping toxins in response to her recent raw food diet. And they were coming out her breasts when she breast-fed. She told me no one had ever put the two together. Doctors won't … it's a Functional Medicine concept.
But not everyone can readily release toxins like this. What if you couldn't? They'd back up just like a toilet that's blocked.
And … if you body is full of toxins and wastes … they'll poison you and overload your detox systems. Sometimes with disastrous consequences.
So we need to have wide-open valves, ducts, and drainage all the way to the colon to eliminate them well. And support those pathways.
How do you know if you're draining? Easy ... are you pooping?
Click To Tweet
Pooping … sometimes more than once a day … is an indication that you're draining well.
Some Pooping Advice …
If you're not eliminating as you should, you might want to consider the following …
Drink enough water and eat enough fiber.

Both aid in elimination. And, again, we're back to the "eat more fruits and vegetables" mantra. As that's where most of the fiber is.
Exercise. 3/4 of the U.S. population doesn't do the minimum … 30 minutes 3 times a week. And that statistic has existed for decades. Even walking and gentle exercise like Yoga and Qigong (my fave) are helpful. Remember that primitive cultures like the Masai and Aborigines run all day.
Take natural laxative substances. There are herbals such as aloe and cascara sagrada that can help. But I prefer Magnesium … and especially Magnesium Citrate if nothing else works. But if nothing else works, you might want to get to the root cause of what ails you.
Magnesium draws water into the intestines, stimulating movement. As well as softening and increasing the size of the stool. Magnes
ium Citrate is one of the best forms for helping you eliminate.

Take a binder

.

When toxins leave your body, they need to be bound or else … like both clients I described above … they'll make you sick. Many think the best binder is activated charcoal. But you have to take it away from food as it binds everything.
I prefer Fulvic Acid (or Fulvic Acid-derived supplements). It can not only act as a binder … it can boost your immune system, help with digestion, and provide over 70 trace minerals for overall health.
Liver Support
It's also important to give your liver and kidneys some help while they're ridding your body of toxins. And keep bile ducts open for optimal drainage.
For that purpose, I do like herbals like Liver Health. It contains Schisandra, Milk Thistle, and Dandelion and other supportive herbs. And Herb Pharm is one of the few herbal brands that I trust.
Boosting Immunity
Gut health should be first and foremost when you're considering boosting immunity. And, if you have a compromised gut … and 80% of us do … it might be wise to seek out a Functional Medicine practitioner to help you heal that.
Because the immune system one cell below may be going wild trying to combat what it considers (but may not be) foreign invaders. I like to do that first as the body doesn't heal very fast (if you've ever tried to lose weight you already know that).
And all of that activity may be causing inflammation. Which may be making the immune system function even more poorly. It's a vicious cycle.
But … here are four of my absolute favorite supplements that you can take while the healing is going on to support it …
Vitamin C
We're all told to drink orange juice (mostly by the juice company) as a vital part of of breakfast. But I don't eat breakfast. And I think fruit juice is almost as bad for you as soda.
So please eat the whole fruit. Or just take 500 or 1000 mg of Vitamin C. Some preliminary research has shown that IV Vitamin C may even help treat COVID-19.
I'm not surprised as Vitamin C does amazing things for us. First of all, it's an antioxidant that helps decrease inflammation and, as a result, overall disease risk. It also boosts immunity by helping white blood cells (part of your immune system) function more effectively as well as strengthening your skin's defense system.
Stamets 7
I've been totally sold on this supplement for years. I even
used it in my integrated cancer clinic during chemo and radiation treatment.
Mushroom extracts have been used for decades in Japan as adjunct cancer treatments. And they're the most-researched natural compound for cancer and immune-boosting.
So why aren't WE using them? Mycologist Paul Stamets, the inventor, cured his mother of Stage IV (the worst kind) breast cancer with his tinctures.
This has seven different mushroom tinctures (I like the tinctures because you can just put them all together and chug-a-lug them.)
According to the blurb about this it … "promotes respiratory, digestive, circulatory, cellular, lymphatic and systemic functions for foundational immunity" and "can increase Natural Killer (immune) Cells by more than 300%". It also "enhances natural blood-sugar modulation" and "supports the body in adapting to physical, mental, and environmental stress factors".
Zinc
Zinc has many roles, including protecting the liver and playing a central role in the immune system. It affects it in many ways, from bolstering skin cells to gene regulation within lymphocytes (immune cells).
Zinc is also vital for normal development and function of cells mediating nonspecific immunity such as neutrophils and natural killer cells. A deficiency can allow pathogens (toxins. parasites, bacteria, etc.) free rein in the gut.
Immuno Plus
I like the fact that this is an "all-in-one" supplement … and even has glandulars to stimulate the thymus, pituitary, and spleen. As well as vitamins and minerals, digestive enzymes, and even some mushroom extracts.
This supplement received a 5.0 (the best!) rating on Amazon … I've never seen a supplement with a rating like that! I would say that it's worth a try if you hate tinctures and just want to take one pill.
OK … that's it!It probably seems like a lot but we're healing systems … not symptoms. And that takes a lot of support. And again … here are the instructions about how to take each of the supplements above …

Also, many of these brands are only available to practitioners. And definitely not all in the same place. So this is the best way to get them. And shipping is free!
Want to order all these right away? Sooo easy. You CAN get them all in the same place (although in these times some of these might be backordered). and shipped right to your door. You can now do all this all with one click (plus a sign-up) on my Fullscript dispensary …