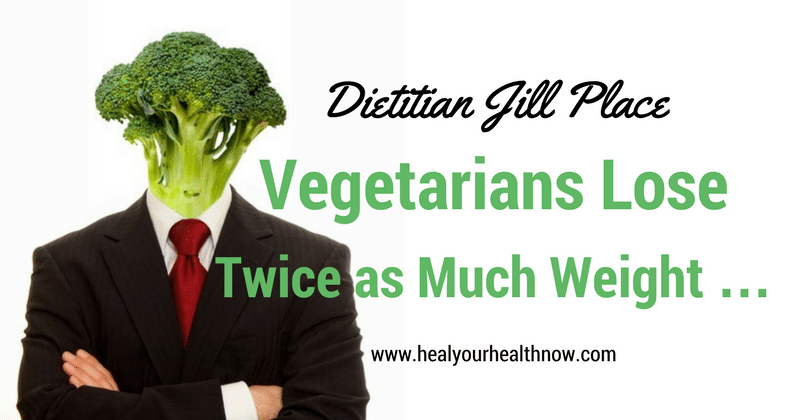 … and Muscle Fat Too!
I just had to share this hot-off-the-press news published just of week ago … a groundbreaking article in the prestigious Journal of the American College of Nutrition showed that dieters not only lose more weight than those on a traditional low-calorie diet, but they also lose muscle fat. Loss of muscle fat can improve glucose control and lipid metabolism, which is especially important to the growing population of diabetics and those with Metabolic Syndrome … a constellation of conditions that can eventually lead to heart disease and diabetes.
Dr. Hana Kahleová, Director of Clinical Research at the Physicians Committee for Responsible Medicine in Washington DC, who was the lead author on the study, deemed vegetarian diets not only best for weight loss, but for reducing body fat, thus increasing metabolism, which burns more fat and aids in more weight loss. According to Science News, which reviewed the study …
Seventy-four subjects with type 2 diabetes were randomly assigned to follow either a vegetarian diet or a conventional anti-diabetic diet. The vegetarian diet consisted of vegetables, grains, legumes, fruits and nuts, with animal products limited to a maximum of one portion of low-fat yoghurt per day; the conventional diabetic diet followed the official recommendations of the European Association for the Study of Diabetes (EASD). Both diets were restricted by 500 kilocalories per day compared to an isocaloric intake for each individual.

The vegetarian diet was found to be almost twice as effective in reducing body weight, resulting in an average loss of 6.2kg compared to 3.2kg for the conventional diet.

Using magnetic resonance imaging, Dr. Kahleová and colleagues then studied adipose (fat-storage) tissue in the subjects' thighs to see how the two different diets had affected subcutaneous, subfascial and intramuscular fat (that is, fat under the skin, on the surface of muscles and inside muscles).

They found that both diets caused a similar reduction in subcutaneous fat. However, subfascial fat was only reduced in response to the vegetarian diet, and intramuscular fat was more greatly reduced by the vegetarian diet.

This is important as increased subfascial fat in patients with type 2 diabetes has been associated with insulin resistance, so reducing it could have a beneficial effect on glucose metabolism. In addition, reducing intramuscular fat could help improve muscular strength and mobility, particularly in older people with diabetes.
If you feel you're scientifically-literate and would like to read the whole study, complete with fat scans, go here.
Kinda blows the concept of calories in-calories out for weight loss outa the water, doesn't it? Perhaps the reason vegetarian diets work so well is that they're chock full of enzymes, antioxidants, bioflavonoids, and anthocyanidins, lots of fiber, and minimal amounts of good-fats. Minimal consumption of fat along with these powerful natural healing chemicals may be the reason participants lost more weight and more fat. Also, they may have been avoiding lots of things that may cause food sensitivities, as it's my experience when my clients have avoided foods they're sensitive to, they've lost up to 40 pounds and kept it off.
And these results are especially startling in light of the fact that we dietitians have been instructed to promote a diet for diabetics that's low in carbohydrate (fruits, starches, milk, and sweets) and high in protein, especially animal protein. And that diabetics, because of their insulin resistance, find it very hard to lose weight. Is it now time to rethink the way we teach this as a vegetarian diet is naturally high in carbohydrate due to the high consumption of fruit, grains, and beans? Perhaps.
Now begs the question … are you willing to stop idling in those long lines at the In-and-Out window and consider changing to a vegetarian lifestyle? Because I won't lie to you … it's going to take a whole lot of adjustment and rethinking on your part. Not to mention the fact that vegetarian food isn't widely available, especially at drive-thrus … about the best you can hope for is anemic salads, French fries, and the lettuce and tomato on your hamburger.
Yeah … I live in L.A. and there are tons of restaurants with vegetarian options. But they're not on every corner. So you may have to eat at home more often than not. And you may … horror of horrors … have to COOK! But there are tons of recipes on the internet. Good-tasting recipes. If you don't cook a lot right now, it might be fun and challenging to do so. I'd suggest that you get the whole family involved. And … finally … you don't have to switch cold-turkey right away … you can ease into it.
But if weight loss is your goal, you might want to consider vegetarianism. A lacto-ovo diet has been shown time and again to be the healthiest on the planet. And now, this study has highlighted that belief in an even more positive way. It's also a randomized study, which scientists love, with very significant results, which the rest of us love. Worth a try?
Leave Your Comments About Vegetarians Lose Twice as Much Weight … Below
Have you ever tried a vegetarian diet? How did it work for you? In light of this research, are you willing to try one?