By Dietitian Jill Place
Article after article I've read recently about mindfulness hails it as a "superpower". So I'm asking you … are YOU a mindfulness superhero?
Superheroes are so trendy today. I LOVED superhero comic books in my late teens all the way into my thirties. So I guess my passion for them was WAAAY ahead of my time.
There was even a picture of me in the L.A. Times in an evening gown (I was returning from some Hollywood party after doing my actor-networking duties) buying comic books at the famous Hollywood and Vine newsstand (it's still there to this day) at 2am . Bottom line … I love the idea of having superpowers.
And … truth be told … I DO think that mindfulness IS a superpower. Practicing it saved my life. And … at the time … I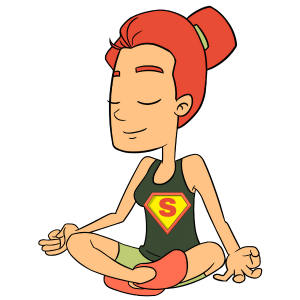 DIDN'T EVEN KNOW I WAS DOING IT!
Y'see I had been trained for years in a form of mindfulness called ACTING. In order to be good, you had to be in the moment … reacting to highly-rehearsed stimuli again and again as if for the first time.
So I acquired my superpowers quite by accident. And got them … quite frankly … ass backwards. Because I was aiming for being in the moment … not the other superpower things mindfulness gives you.
So let me explain why … if you embrace mindfulness as a many-times-a-day practice … you'll be a superhero with superpowers just like my friend here … Super Serenity Strong … one of the Immune sisters.
Because mindfulness, good guts, and mental (and optimal) health are interconnected. And THAT's been scientifically proven …
Mindfulness is Scientifically Proven …
Most of us have been raised to seek happiness and contentment from outside ourselves. I don't know about you … but I find that ultimately dissatisfying. If you've ever seen kids tear giddily through presents on Christmas morning … just to discard a much-coveted toy days later … you know what I mean.
Through mindfulness practice, however, we realize that our real power … and contentment … comes from within. Mindfulness has been scientifically shown to cause major bodily shifts, from the rewiring of our neural networks to the proper secretion of hormones. It is when we are able to pause, to listen both outside and inside ourselves, and to pay attention that we unlock these the superpowers that have been within us all along.
And if you think that it (or its cousin, meditation) is airy-fairy,
here's a partial list of people who practice mindfulness ... Bill Gates, Will Smith, Michael Jordan, Jennifer Lopez, Paul McCartney, Sheryl Crow, Jerry Seinfeld, Jeff Weiner, Linkedin CEO, and Clay Collins, Leadpages CEO.
Click To Tweet
Paltry little people like that. Do they know something that you don't know?
Here are some reasons why mindfulness is truly a superpower … and those that practice it … like the above … are superheroes …
Mindfulness Superheroes have Rewired Brains
Our brains are all over the place. It's our original wiring. And we're also wired to sop up negative things to help us survive. As well as having a hard time laying down neural networks for positive lifestyle changes of all kinds.
Mindfulness changes all that. When we practice mindfulness and its associated virtues like gratitude and compassion on a daily basis, we reprogram those positive neural pathways in our brain's networks. Over time, this helps us to embrace these virtues more deeply in our everyday lives.
Mindfulness Superheroes are Able to Select their Thoughts
I love the scene in the movie, Eat Pray Love where Richard Jenkin's character says "your mind is the only thing you can control" and "you need to learn to select your thoughts". I think I'm paraphrasing but you get the drift.
As I've said before in this article, our minds are all over the place … reacting unconsciously to outside stimulus like the weather or something someone says that hits us the wrong way.
Practicing mindfulness enables us to become more aware of our emotions, habits, limiting beliefs, and thought patterns. This awareness empowers us to choose how we want to respond to whatever's in front of us.
Mindfulness Superheroes have Inner Peace
Daily committed mindfulness practice can open you up to the inner peace that's your human right. It enables you to gain a greater perspective on your life.
I often say to those I'm teaching that just three breaths can calm them. Think of what might happen if you do some form of mindfulness every day.
Mindfulness Superheroes Can Calm Their Racing Minds
You need to practice though. Because rebuilding new neural networks take time.
But … eventually … you can calm your mind (because … remember … minds-all-over-the-place is our normal) with just a few breaths. But, like my acting training, it takes daily practice.
And it takes courage. First … because most people don't prize this practice like they should. And last … because it takes a lot of chutzpah to overcome your own personal resistance to practicing. Including your racing mind and desire to stop at any given moment.
But here's the perk … mindfulness practice makes it easier for us to detach from the busyness of our minds and tune into the silence inside. It may take awhile … but I guarantee that will happen. For you too.
Mindfulness Superheroes Heal Themselves
My emotional healing began when I began my acting training. It enabled me to dredge up emotional stuff I needed to face. And spurred me on to seek out a therapist.
That a-ha moment happened when I was on the floor at Lee Strasberg's LA Institute (I later ran the place) entwined around a toilet bowl bawling. My lifelong friend, Corinne, loomed over me asking, "Maybe you should see my therapist?"
Her therapist, Caroline, healed me. And … as serendipity would have it … practiced a form of mindfulness called "Guided Imagery". I practice it to this day … both personally and as a practitioner.
It wasn't an easy journey. And it took a lot of courage. As I had to face limiting beliefs, negative scripting, and traumas that have kept me stuck for so long … including my eating disordered self.
It helped me have compassion for the sad little kid that had been stuffing her face for so long. And ground in the patience (still working of that one), self-love, and awareness it took to heal.
Mindfulness Superheroes are Superheroes FOREVER!
Time to brush off that cape, put it on, and do your Neo flying impression! Once you begin doing mindfulness ... and keep it up ... you can be your own best friend through the best and worst of times.
Click To Tweet
And … once you learn the basics … which is true of any learning curve … it becomes an easy intuitive practice that you can do anywhere when facing anything. All it needs is openness, attention, and willingness to tune into the moment as it unfolds.
Meditation practice isn't about trying to throw ourselves away and become something better. It's about befriending who we are already. ~ Pema Chödrön