By Dietitian Jill Place AKA The Good Gut Queen
You've read the book, seen the movie(s) (coming soon) … so here's some ideas to make your week of "Love YOURSELF Lunch" successful. We'll go through ways to pack, what to eat, and how to relax before eating (a mindfulness script just for you).
I do believe that prepping lunch takes all of five to ten minutes if you just know what to do. So it just pains me on my consulting jobs to see the literal mountains of styrofoam containers of take-out lunch foods that people consume.
At one, staff doesn't get a choice; we get them even for salads. In reality, polystyrene foam, especially when holding hot foods, can leach cancer-causing chemicals into your foods.
Not to mention that it's polluting our waterways and filling our landfills. Oh, and Bisphenol-A (BPA) is in EVERYTHING plastic. I talk about it at great length in the article, Can Obesogens Make You Fat? along with pthalates and PFOAs.
Yes … not only can these things make you fat … they accumulate in your body and make you a target for inflammation, leaky gut (remember … I AM "The Good Gut Queen"), and eventual autoimmune disease.
Don't mean to scare you … but remember that my mantra is SMALL STEPS LEAD TO BIG WINS. So maybe having a really good lunch in safe containers can be one of those small steps … especially if you make a practice to do it every day.
Here are some ideas to make your seven days (and beyond) a success. Because my ulterior motive for this challenge is to get you to the every day and beyond.
I know that, if I don't pack my lunch or pay attention to what I order in restaurants, I eat crap. How about you?
How to Pack
I try to steer clear of plastic containers if I can. But, if I use them, I make sure they're BPA-free. And they have the numbers (in the arrowed triangle on the bottom) 2, 4, and 5 (NOT 3, 6, or 7 … mostly polystyrene [those wonderful white containers])
Go to Amazon and search for "lunch bags and boxes" and hundreds come up. But I particularly like the kind that have the built-in freezer inserts. That way you skip the step of buying them separately and searching for them in your freezer.
To that end, I like PackIt bags. They come in all sorts of styles and colors … and even have customizable BPA-free storage/packable containers. Here's a sample …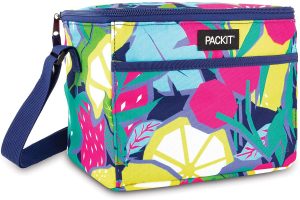 I really love the fruit-and-vegetable designed ones. And all you have to do is to throw it in the freezer (I like to wipe the insides clean with some sort of essential-oil sanitizing spray first) and it's ready for you the next morning.
Another idea … the classic bento box. I sang (in my other life) in Japan for four months in the 1970's and brought back 4 of them. Of course, they're all gone now. But the updated versions aren't.
Here's one that's stainless steel (DON'T buy aluminum … that can leach into hot food too). This is also customizable … you don't have to use all of the sections at one time. Of course, you can't put this box in a microwave. But it IS insulated and can keep your food hot for at least 2 hours. And cold for 3.
If you're so inclined, and you HAVE to heat food (I do and succumb to plastic as it's really convenient), BPA-free plastic is the ticket.
BPA-Free Plastic Packables
To that end, I like Bentology … also available on Amazon (why are you not surprised!)
This is a sectioned box (with tops for the individual containers if you want them). They also make sleeves and lunch bags to put the box in.
And I do love the fruit and veggie cutters so you can make fun shapes to eat. Well … I do have to admit … I'm a kid at heart.
My last suggestion … Sistema. They make a ton of different shapes and sizes of containers … this is one of my favorites … the salad container.
Last week, I used this almost every day … I packed salad greens and "guts" (see my recipe, Salad in Five … Minutes, to find you what "guts" are) on the bottom and my fabulous Curried Chicken Salad on the top. You can then add some dressing in the cup provided.
Or not. And … guess what … this container also comes with its own knife and fork. What could be more convenient!
What to Eat …
Please do the process in What's Love YOURSELF Lunch first. Because this is really about what YOU think is a happy and healthy lunch for you.
For example, if you're eating Big Macs (or any other fast food) for lunch every day, you might just opt for a good sandwich or wrap (buy it at Trader Joe's, Whole Foods or some other good market or make your own [preferred]) and carrot or celery sticks (or some other packable veggie or fruit you'd like).
Or if you're already a healthy eater and would like to go one step further (maybe Gluten Free, Dairy Free, Vegetarian, or even raw [my Natural Hygiene friends would love you for it!]), plan that out too.
And here's a handy planner to do that!
But this planner goes way beyond just writing down what you eat. You can also record whether you packed it or ate out, whether it was a pleasant experience, and whether you practiced some mindfulness.
In that way, you can discover whether it really was a "Love YOURSELF Lunch".
LYL Menu Suggestions
Here's some menu suggestions based upon what I do with lunch food. Remember that I eat Gluten Free, Dairy Free, and mostly Paleo (with forays into Gluten Free bread, air-fried fries and occasional brown rice). And that I want you to choose your own.
A lot of these are leftovers from meals I had the day before. So the packing and taking is super-fast.
Even more super-fast … some of these frozen in individual containers and popped into your lunch bag. The suggestions in orange are specific recipes or food choices. And … yes … I DO do a cleanse day sometimes.
Oh … and I'm not a fish gal … from an early, very smelly encounter with smoked whitefish in the fridge. Open tuna fish cans send me running for the exit. So when it comes to fish you're on your own.
But I pretty much pack lunch every day when I'm consulting. So a lot of these suggestions come from my own daily lunches. And … yes … gotta have dessert!
MONDAY
Salad in Five … Minutes
Paleo Walnut Brownies
TUESDAY
Curried Chicken Salad
Against the Grain baguette
Paleo Chocolate No-Bake Cheesecake
WEDNESDAY
Paleo Cornbread Chili Pie
Carrot and celery sticks
Low Fat GLUTEN Free Pumpkin Pudding
THURSDAY
Basic Stir Fry with BBQ Pork and Green Beans
Leftover Brown Jasmine Rice (optional for Paleo)
Rice Pudding with Agave Syrup
FRIDAY
Gluten Free (and Paleo) Granola
Coconut Yogurt or Milk (or other alternative)
Fresh and/or dried fruit, Lily's chocolate chips, Goji or Acai Berries, Cacao Nibs, etc.
SATURDAY
Paleo Air Fryer Chicken Tenders
Air-Fried French Fries
Paleo Chocolate Cupcakes with Pecans
SUNDAY (Cleanse Day)
Super-Special-Spectacular Smoothie
Mindfulness Exercises
I have to admit that I don't eat a morsel (most of the time) without breathing and noticing it first. I did a whole series of videos called Micro-Mindfuls … sequential snippets of mindfulness to train you in this technique. You can access them by clicking on the name.
But here's a script (suggested by one written by Shilagh Mirgain, PhD) if you'd like to record it yourself and play it back. It's a beginning breathing exercise. Want more? There'll be an exercise in every challenge video.
Start by settling into a straight-backed chair so that you feel supported; feel that the chair is supporting you on your journey. And how your body touches the chair. Allow your eyes to close or keep them open with a softened gaze.

Begin by taking several long, slow (very important) deep breaths breathing in fully and exhaling fully. Breathe in through your nose and out through your nose if you can. If not, breathe through your mouth.

Allow your breath to find its own natural rhythm. Bring your full attention to noticing each in-breath as it enters your nostrils, travels down to your lungs and causes your belly to expand. And notice each out-breath as your belly contracts and air moves up through the lungs back up through the nostrils or mouth.

Invite your full attention to flow with your breath. Notice how the inhale is different from the exhale.

You may experience the air as cool as it enters your nose and warm as you exhale. As you turn more deeply inward, begin to let go of noises around you.

If you are distracted by sounds in the room, simply notice them and then bring your intention back to your breath. Simply breathe as you breathe, not striving to change anything about your breath.

Don't try to control your breath in any way. Observe and accept your experience in this moment without judgment, paying attention to each inhale and exhale.

If your mind wanders to thoughts, plans or problems, simply notice your mind wandering. Just watch the thought as it enters your awareness. Then practice letting go of it as if it were a sailboat sailing gently in and out of sight on a calm sea.

Then bring your attention back to your breath. Your breath is an anchor you can return to over and over again when you become distracted by thoughts.

Notice when your mind wanders. Observe the types of thoughts that hook or distract you.

Then practice returning to the breath with your full attention. Watching the gentle rise of your stomach on the in-breath and then it relaxing, letting go on the out-breath. Watch the sailboat-thoughts come and go in your consciousness.

You may also notice feelings arising, perhaps sadness or happiness, frustration or contentment. Acknowledge whatever comes up including thoughts or stories about your experience.

Simply notice where your mind went without judging it, pushing it away, clinging to it or wishing it were different and simply refocus your mind and guide your attention back to your breath.

Breathe in and breathe out. Follow the air all the way in and all the way out. Mindfully be present moment by moment with your breath. If your mind wanders away from your breath, just notice without judging it – be it a thought, emotion, or sensation that hooks your attention and gently guide your awareness back to your breathing.

As this practice comes to an end, slowly allow your attention to expand and notice your entire body, how your body touches the chair in which you're sitting, and then beyond your body to the room you're in. When you're ready, open your eyes and come back in the room fully alert and awake. Then go about your day.

Wrapping Up
This is a lot. That's why I made it YOUR CHOICE to do whatever YOU'D like to do to create your Love YOURSELF Lunch.
Even if you just ditch the styrofoam and pack your lunch (no matter what you pack), that's a terrific step in the right direction. Or breathe a bit while you're tackling that styrofoam … that's OK too
Whatever you'd like to do … I support you! Next week … Love YOURSELF Lunch OUT!