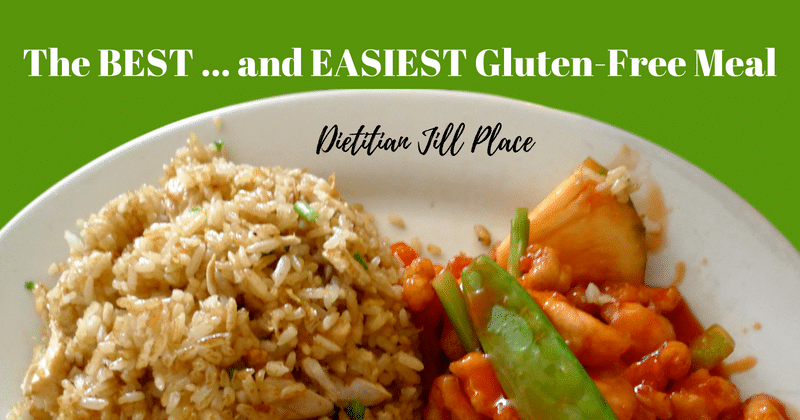 You Don't Have to Cook to … Cook!
I'm a HUGE advocate of bringing back cooking as a primal skill. Because it's something we've gotten away from and, as a result, are fatter and unhealthier than ever before! Also, the act of preparing your own food has a therapeutic … even soul-soothing … effect. And these non-recipes take about as much time as you spend in the McDonald's or In-and-Out order-out line.
I DO have Gluten-Free recipes on my website … lots of them. But … if you didn't already like to cook or refuse to do so even they … and, trust me, most of them are as simple as you can get … are a daunting task. So how can you learn to love to cook if you've never yielded a knife or a spatula?
EASY! DON'T USE RECIPES! Instead, just cook! Many of my clients are enamored of these services that deliver all the ingredients to your door along with step-by-step instructions. Much cheaper than a personal chef. But you still have to chop, cook, and follow a recipe. So here's my even simpler alternative. I was flipping through my latest Gluten Free & More magazine and came upon this super-simple idea that even YOU can do. I'm making it for dinner tonight as I'm a HUGE Chinese-food freak … but also love to cook easy …
If you're just starting … or are beginning once again … with cooking, I'd suggest you get a few non-stick pans (at least a small- or medium-size skillet and a decent-size sauté pan with a lid) or a set of non-stick (I have Cuisinart's Green Gourmet 10-piece myself; it's moderately priced and has served me well the last 5 years. I also like that I can pick up new small skillets for my omelets as they wear out as well as additional set pieces at Bed, Bath, and Beyond) and some silicone utensils. Non-stick pans allow you to cook with less fat and liquid.
I use my non-stick pans for the non-recipe below (I call it a non-recipe because you can use whatever ingredients you like and mix-and-match things like sauces and optional ingredients), which I found in a San-J ad. They made many sauces … all of them Gluten-Free. So choose your fave … or any other Gluten-Free sauce … and do the following …
1. Choose and cut into 1-inch pieces 1 pound of your favorite protein … beef, chicken, pork, shrimp, or tofu (or I'm thinking of doing this next with tempeh … a meat-like soy product; for this occasion, however, I chose pork tenderloin … my fave cut of pork)
2. Choose 4 cups of your fave veggies (I bought already-prepped peppers, green beans, and baby carrots but you could also use broccoli, zucchini, snow peas, onions, or any other fave veggies; if you buy the ready-prepped, you don't even have to slice them)
3. Mince garlic (1 clove) and/or sliver fresh ginger (1 or 2 Tablespoons [optional])
4. Stir-fry protein until browned in 1 tablespoon of oil; remove to a plate. Stir-fry vegetables and optional garlic and/or ginger 5 to 8 minutes until crisp-tender, adding more oil if needed. Add the protein back along with about ¾ cup of your fave cooking sauce (I used San-J Orange Sauce) and stir fry until heated through. Serve with rice or other grains or noodles.
Now if you're REALLY ambitious and just CAN'T have Chinese food without fried rice … here's a super simple way to do it …
1. Scramble 1 or 2 eggs and set aside.
2. Use any 2 cups of any leftover rice or cook any rice to equal 2 cups (I just LOVE brown jasmine for this, or … even better … a blend of rices). Sauté in a little oil in a non-stick pan until the rice starts to crisp and color.
3. Add frozen peas, carrots, corn, or any other vegetable (optional). Return eggs to pan and add Gluten-Free soy sauce to taste. Serve with other dishes.
I love to make this fried rice when I bring home some leftover Chinese food; it takes literally 5 minutes, especially when you already have the rice in the fridge, and tastes terrific … especially if you use the rice blends!
I hope you'll consider cooking more in the New Year. Because if you're going Gluten-Free, want to lose weight, or try any other healthy lifestyle change, it's the ONLY way to go!
Leave Your Comments About The BEST … and EASIEST Gluten-Free Meal Below
What's the easiest non-recipe you make? How long does it take to throw your easiest meal together? What do you make?