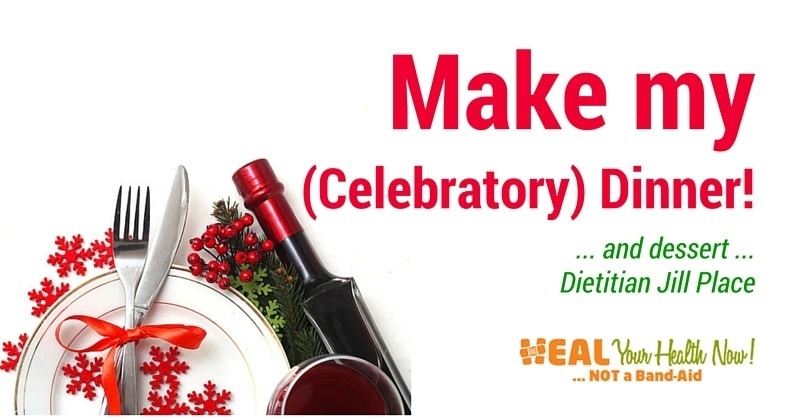 My Marvelous Gluten-Free Cheesecake stole the show!
I'm not a baker. I just watched a segment on CBS Sunday Morning about fanatic cake decorators this morning. I have no desire to do that… sculpting multi-petaled fondant flowers and faux-marble butter-cream urns … even though I find the results of their passions thrilling.
So when I make a holiday meal … or just want to show off my ex-chef skills by cooking for friends, I make a cheesecake. It's a beautiful presentation, makes people OHHH and AHHH, and your just can't kill it. So if you forget that it's in the oven or become preoccupied with yet another chore, which I often do, it can bake a few minutes more and still be fine.
I've also been making cheesecakes low-fat forever because I don't want to be weighed down by a truckload of fat and 1000 calories after a hearty meal. They take a bit of doing … lower temperatures and toppings to mask cracks that usually form at the top … but are ultimately satisfying. Cut the fat even more with something like pumpkin … like in this particular cake … and you slash calories even further as well as beefing up the Vitamin A and C in your diet.
I love pumpkin … and don't think it's just for Thanksgiving. I use it all year round in muffins and I carve it out as both a vessel and vegetable for soup. But its pie-spice goodness really shines in a cheesecake with that winning juxtaposition of sweet and tangy flavors. I even like to add a little Frangelico … hazelnut liquor … to make the tang even more complex. So you don't even know it's low-fat.
This makes a HUGE cheesecake. Which is even better as I sent all my Christmas-day guests home with little care packages. So the taste of the day lasts a little longer. And … yes … I definitely saved some for myself.
This is adapted from a recipe in Delicious Living. Another great thing about cheesecakes … all you need is to do to make them Gluten-Free is to change the graham crackers or cookies in the crust for Gluten-Free ones. I used Mary's Gone Crackers Ginger Snaps here. Don't be daunted by the many ingredients … another great thing I love about cheesecakes is that all this comes together with a food processor or beater. The added texture of beaten egg whites lightens and lifts this one. Bon Appetit!
Pumpkin Ricotta Cheesecake
Crust
¼ cup walnuts
¼ cup crystallized ginger
1 package Mary's Gone Crackers Gluten-Free ginger snaps
1 Tbsp. canola oil
Filling
1 15-ounce container part-skim ricotta cheese
1 8-ounce package fat-free cream cheese
1 8-ounce package Neufchatel (1/3 less fat) cream cheese
1 cup canned unsweetened pumpkin
1 cup date sugar
¼ cup molasses
1 egg
1 tsp. ground ginger
¼ tsp. ground nutmeg
¼ tsp. ground cloves
1 tsp. ground cinnamon
2 Tbsp. Frangelico
3 egg whites, at room temperature
¼ tsp. cream of tartar
1 Tbsp. sugar
Pinch of salt
Topping
2 cups nonfat or low-fat sour cream
2 Tbsp. sugar
1 tsp. vanilla extract
2 Tbsp. Frangelico
1. Preheat oven to 350 degrees. Coat bottom and sides of a 9-inch springform pan with cooking spray. Place all crust ingredients except oil in a food processor; pulse until fine crumbs form. Add canola oil and process another 5 seconds. Press mixture evenly against pan bottom. Bake for 10 minutes. Cool.
2. For the filling: Place ricotta cheese in a clean dish towel. Knead to remove excess moisture until cheese holds together like soft dough. Place in a mixer bowl or food processor and beat until smooth. Add cream cheese, pumpkin, date sugar, molasses, 1 whole egg, Frangelico, and spices; beat until well-blended.
3. In a separate bowl, beat egg whites with cream of tartar at medium speed until soft peaks form. Slowly add 1 Tbsp. sugar and pinch of salt; continue to beat until stiff but not dry. Gently fold into pumpkin-cream cheese mixture.
4. Place the springform pan on a baking sheet and pour in the filling. Bake in the center of the over for 80-90 minutes, or until sides are set and a knife inserted in the center comes out clean.
5. While cheesecake bakes, prepare topping by mixing together sour cream, sugar, Frangelico, and vanilla extract in a medium-sized mixing bowl.
6. When cheesecake is done, remove to a rack and cool for 15 minutes (don't turn off oven). Pour topping over cheesecake. Return to oven and bake another 5 minutes. Cool on a rack. Refrigerate, uncovered, overnight. Then cover with plastic wrap and refrigerate until serving time. Remove pan sides before serving.
What's your favorite celebratory dessert? Is it the thing you spend the most time on when you're making your meal? Can you share the recipe with us?