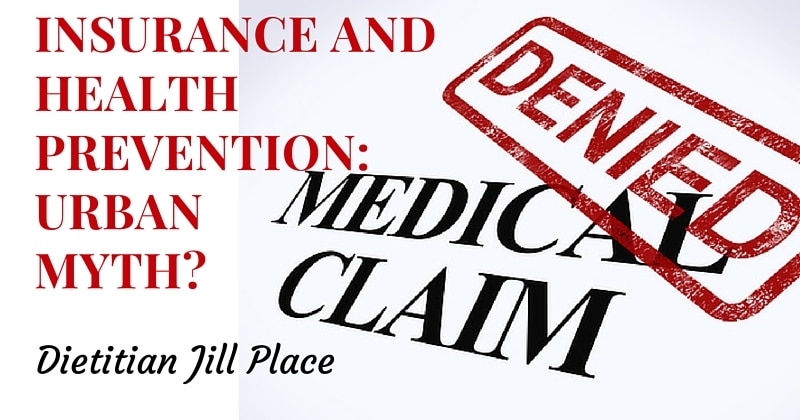 Insurance Pays for Sickness … NOT Wellness
I can't tell you how many times a day I get voicemails, emails, and texts with exactly the same message … "I want to lose weight (get healthier [have a health coach] … yadda, yadda). DO YOU TAKE INSURANCE?" And I spend hours and hours explaining why I DON'T.
I DID, however, update my superbill with the new ICD-10 codes. Which I'll give to you if you'd like to fight it out with your own insurance company. My updated superbill even has the code for the food sensitivity test I do. But if you think that reimbursement is a shoo-in … GOOD LUCK!
Even the lab that does the food sensitivity testing that accounts for about 85% of my private-practice business has stopped trying to collect insurance. It's sad … because when I started doing the tests about 8 years ago, insurance DID pay for about 85% of them. Now they fork out zip, zilch, and shinola.
And I'm sorry to say that they FIB too! Here are two examples that I have personally experienced. And I'm sorry to say there are many more. About 6 years ago, the lab received confirmation that a certain client's insurance would pay the total fee for the test. All the client had to do was remit a small co-pay and then the lab would take whatever else insurance paid. Even though it was often less than they promised.
But nine months later, my client called me almost hysterical! She was being billed for THE ENTIRE INSURANCE AMOUNT from the lab. Because … nine months later … insurance hadn't paid. It took many calls from her AND me to get them to do so … almost a year later. I guess they hoped we wouldn't say anything because I'm sure they wouldn't have paid without our protests. WERE THEY KIDDING?
Second example … I received a call from someone who said she couldn't afford the test. But, fortunately, she had one of those accounts that paid for alternative healthcare … many do these days. Anyway, I called the company myself and they assured me that they would cover my services; I charged the client's card successfully that very day.
Months later, the company had the nerve to tell my client that she had to pay back all the money! She had completed treatment months before. And was thrilled that what we did, in her words, "changed my life!" But we both had to battle the insurance company numerous times before they conceded and agreed to the original amount with no further payments or penalties. HOW INCOMPREHENSIBLE!
Now way before Obamacare was passed and implemented, I read all the proposed plans. They all trumpeted a promising tune for wellness and prevention. And how did that actually play out? In obesity treatments ONLY covered in doctor's offices. With no nutrition experts like dietitians (I've been waiting for years to work in a doctor's office that appreciates what I do), very little real behavior modification, and overemphasis upon doctor's nutritional advice, which is at best interesting and at worst punitive (I'm being kind). And primarily covers meal replacements and bariatric surgery … NOT permanent weight loss solutions through behavioral, diet, and exercise modification. Meanwhile the obesity epidemic burgeons. DISCONNECT?
I did some in-depth research for this article about what presently passes for wellness in our insurance community. And found that most of it was screening for DISEASES like high blood pressure, HIV, Hepatitis, and everything else from cancer to diabetes. And that "WELL-WOMAN" visits included things like breast cancer screening, prenatal care and partner violence screening. Other things on prevention rosters were copious lists of vaccinations and medications.
Now I realize that we need to SCREEN for things before we can treat them. But one company then gives you SIX VISITS A YEAR for weight maintenance. I'm just getting started to understand the dynamic behind someone's complex relationship with food in six visits. I guess insurance companies are really great at screening but treatment is not so great at best and non-existent at worst. ULTIMATE DISCONNECT?
So I'm wondering … why does everyone think that insurance covers these treatments? Is it just that they haven't read their policies? Or is it magical thinking that hopes that insurance covers everything? I don't know. But what I DO know is that regular insurance doesn't cover most of what I do. Not weight loss, healthier-lifestyle counseling, alternative medicine and testing, or nutritional supplements. THAT'S the ultimate reality!
I HAVE worked in doctor's office that billed insurance for my services. Offices where I was treated with little respect and paid poorly to boot. I'd rather work cash-only for fewer really committed people. Some who have saved for upwards of six months to work with me. People who get that insurance is hardly their ultimate savior. People whose commitment to their own wellness has changed their lives. People who ultimately take their own health into their own hands..
If I sound angry, I am. I want everyone to have access to the treatments that I and my colleagues can provide. And would I work through insurance if it actually paid? ABSOLUTELY! But you can guess from my prior experiences that I don't trust the process. And from most reports I'm justified.
A New York Times article entitled "Preventing Sickness, With Plenty of Red Tape" warned that "When your doctor suggests a screening or test, ask if it will be fully covered under the new rules. Under certain circumstances, any of the covered services may be considered a diagnostic, not preventive, test, and therefore not covered by the insurance plan." And "Even if a preventive test or screen is fully paid by insurance, you may still have a co-pay or co-insurance for the doctor's office visit. That is, the preventive care is free, but the doctor's visit is not". So even the promised "prevention" isn't always covered, let alone treatments for it. UGH! PASS!
So how do we get insurance to pay for the prevention, weight loss, and otherwise healthier living coaching that many people seem to want? Same way you change anything … by speaking up … LOUDLY. Change is born from dissent, NOT apathy. Want real prevention? READY TO SPEAK UP?
Leave Your Comments About Insurance and Health Prevention: Urban Myth? Below
Any bad experiences with YOUR insurance? We would like to hear about them. Please share them below. Others will definitely benefit from what you share.