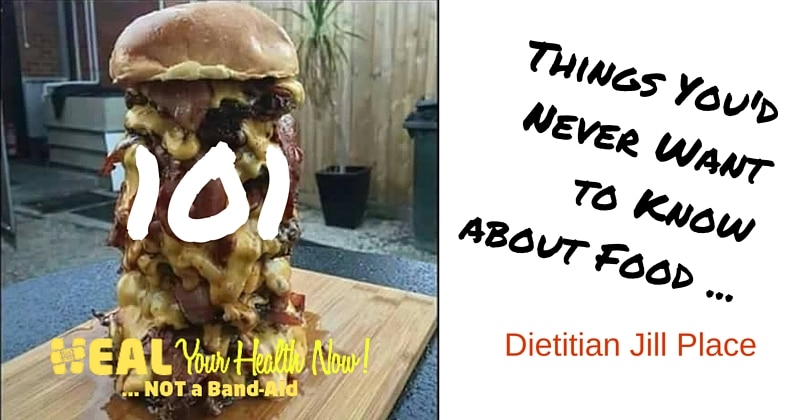 The Down, Dirty… and Skinny… about Food
This will be a free eBook eventually so I thought I'd share it with you here first. I conceived this first part as everything positive I could think of to tell you about food. The second part of title is … But I'm Going to Tell You Anyway! … cautionary tales about what never to do with it! So eat up …
#1 Food is Love … You know what they say … "Nothing says lovin' like something from the oven". Or at least the Pillsbury Doughboy said it. Food has been mother-love from the first time we suckled that bottle or breast to yesterday when we popped that forbidden 2000-calorie pastry in our mouths. Freud aside.
The trick is to not use food as a substitute for loving yourself. Or others. So please don't cram it down people's throats to fill in for hugs or other loving actions. And please … please … don't do the same to yourself.
#2 Food is Life … The down and dirty reality is that, if we don't eat, we'll die! Food feeds not only our bodies but our psyches and souls. Without food, we're weak … unable to focus or move. We have to eat, but we CAN choose how and why we do. I choose life … and food … every day.
#3 Food is Fun … I have instantaneous giggles and visions of the circus and cotton candy when I think of this phrase. The bottom line is that food SHOULD be fun when you eat it. At the very least … a positive experience.
#4 Food is Community … I grew up Jewish so celebratory meals were de rigeuer in my family. And the reason for a lot of love, laughter, and a chance to see friends and family. It was also the way I learned to cook at my aunt's apron-strings; she made everything from scratch except her own wine. The carp swam in the bathtub to be killed and done up into gefilte fish that very day. No other has sufficed in flavor and texture since those times when we broke our Yom Kippur fast with it.
#5 Food is Medicine … We're just coming into the consciousness that food can actually heal. Hippocrates, the father of medicine, said it a couple of thousand years ago and we're still catching up with the concept. Perhaps it's because we're mostly enamored of fast food these days (the line is down the block every night at In-and-Out burgers a few blocks from my house) and less and less with our own cooking. Possibly because we realize that fresh, local, and healing foods take a bit of doing. But the old adage, "You are what you Eat", is still most definitely true!
#6 Food is Nourishing … Many people just don't get this. Or pervert it to think that overeating is nourishing. Food nourishes not only the body but also the mind … without it, we don't get the proper nutrients to focus, think, and even balance emotions. Did you know that certain amino acids (proteins) help make substances in the brain that calm us and stabilize our mood? Food also nourishes the soul; it's a triple threat. Anais Nin said, "You have to learn to intake, to imbibe, to nourish yourself…"
#7 Food is Fullness … Nin finished the above quote with, "… and not be afraid of fullness. The fullness is like a tidal wave which then carries you, sweeps you into experience … " The idea of fullness goes far beyond a feeling in the pit of your stomach. As Nin describes it, it's almost an epiphany or a religious experience that "sweeps" you into experiencing life to the fullest.
I worked for years in the eating disorder community where individuals shunned fullness in one way or another whether they stuffed or starved. It's a sad testimonial to our society that we've perverted the thing that feeds us in such a way. True fullness is found beyond stuffing or starving. And is partaken with joy, not dread.
#8 Food is Preparation … I didn't use "cooking" here (we'll talk about that later) because whenever you eat, you prepare your food in some way … from making a sandwich to heating ramen in the microwave to sprinkling salt on your restaurant food. Preparing food is primal. We don't kill the wooly mammoth anymore. But we do have to put it together in some way or another. My advice … enjoy the process!
#9 Food is Bae … I've seen T-shirts with this on it. And, when researching it, found that the term could mean anything from "poop" to "having affection for" to "baby". It went social-media viral, was generally adored as a word in 2014, and even found itself among the runners-up for the Oxford Dictionaries' Word of the Year. So food has once again been linked to a term that's confusing and ambiguous. UGH!
#10 Food is the New Black … Actually, it's all the colors of the rainbow as we keep reinventing and rehashing food into new combinations and concepts. We trim and clip the poodle until its fur is just a few tufts on supposedly appropriate parts. Look, I was a chef and composed salads and squirted squiggles so that food looked too good to eat. And people OHH'ed and AHHH'ed but I wondered in the long run if they really enjoyed it!
I'm a HUGE fan of down-home comfort food. That's what I cook and eat these days. Squiggles and compositions … not so much. If it tastes GREAT I'm good. So the heck with tiny portions and snobby waiters! Food is fun, fullness, love, and life. And I wouldn't have it any other way. Pass the popcorn!
Leave Your Comments About 1st 10! Below
Please finish the phrase … "Food is …" below and include your name and any other pertinent information. I'd love to have you as part of my eBook!