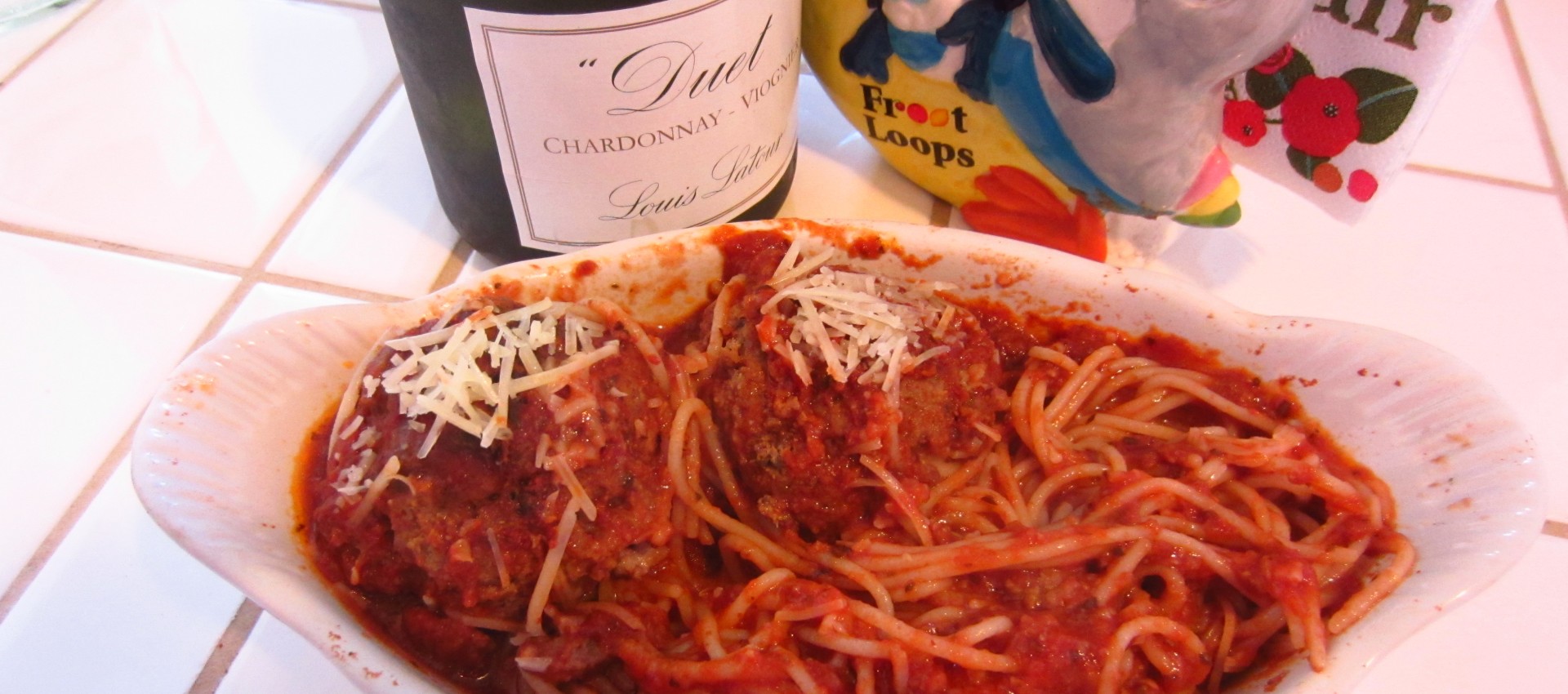 Slow Cooker Spaghetti and Meatballs
By Jill Place Crock-Pot
March 2, 2016
Who doesn't love and often crave comfort-food spaghetti and meatballs on a regular basis. This terrific recipe is almost verbatim from one of my all-time fave online Gluten-Free resources, Nicole Hunn of glutenfreeonashoestring.com. Who adapted it from Fine Cooking. My add-ons ... 1/2 tsp. culinary lavender finely ground in my mortar and pestle (or a spice mill) and added along with the dried spices and herbs at the beginning of cooking as dried ones fare much better with crock pots and long cook times. As well as a finishing of chopped, fresh herbs added 5 to 10 minutes before the end of cooking for a more layered flavor.
Don't be put off by the long ingredient list; they're mostly herbs and spices and the whole thing comes together rather quickly. And the meatballs are unbelievably light and mouthwatering even when frozen! I like to freeze two each (they're large!) with some sauce in individual containers and reheat the amount I need for 2 to 3 minutes in the microwave while my Gluten-Free pasta is cooking. Bon appetito!
Prep: 20 mins
Cook: 6 hrs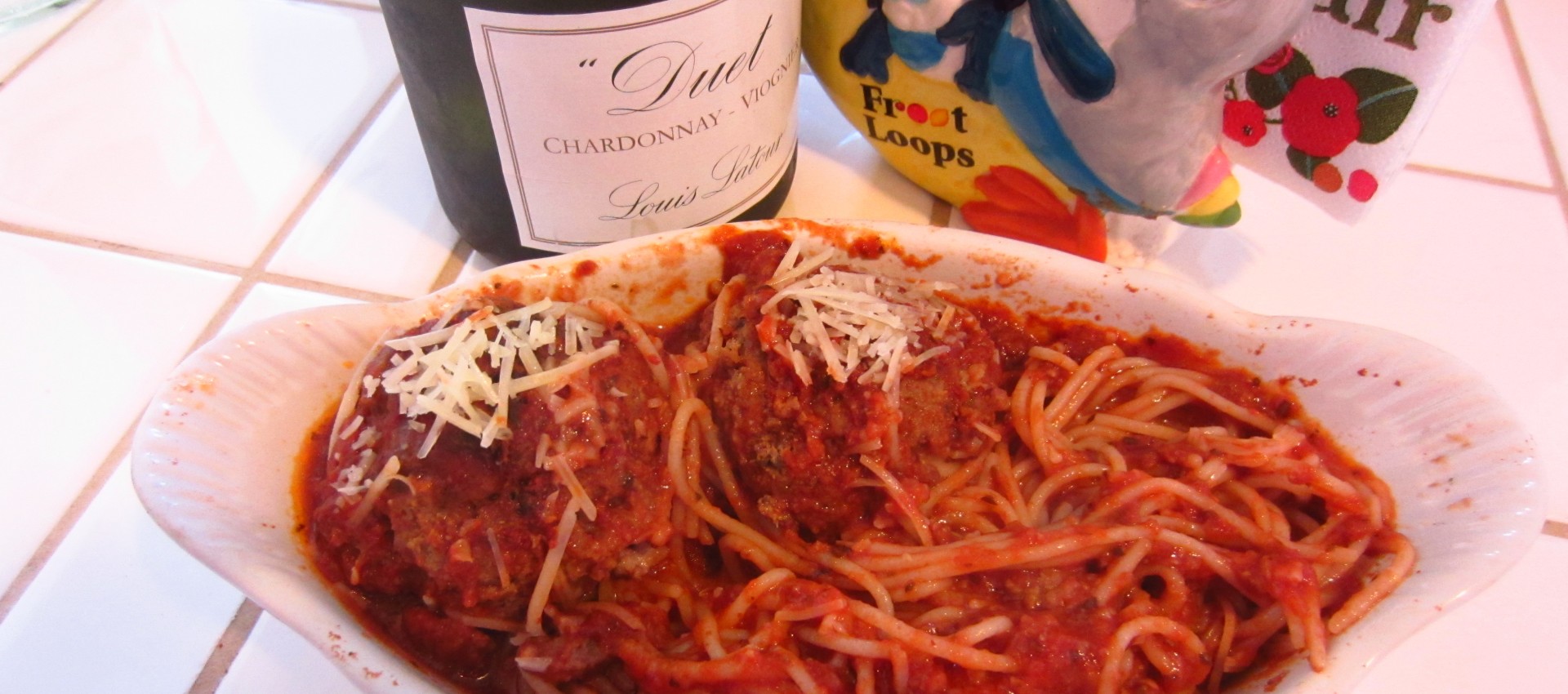 Ingredients
The Meatballs:
1 1/2 cups coarse gluten-free bread crumbs (2 or 3 slices gluten-free bread chopped or pulsed 2 or 3 times in a food processor [leave the crusts on])
1 lb lean ground beef (I use 10% fat or less)
1 tbsp dried oregano, crushed in a mortar and pestle
1/8 tsp freshly-ground black pepper
2 oz. Parmegiano-Reggiano cheese, finely grated
The Sauce:
2 tbsp concentrated tomato paste
1 tbsp dried oregano, crushed in a mortar and pestle
1/8 tsp freshly ground black pepper
1/2 tsp smoked paprika (optional)
1/2 tsp culinary lavendar, ground in a mortar and pestle (optional)
2 to 3 tbsp assorted fresh herbs (Italian parsley, basil, thyme, rosemary, oregano, etc.), finely chopped (optional)
Directions
First:
1Place the breadcrumbs and wine in a small bowl and combine. Allow the breadcrumbs to soak in the wine while you prepare the sauce.
Prepare the Sauce:
1In the crock of a slow-cooker (I used my 3.5 quart but any size 3.5 and up will do), place all of the tomato sauce ingredients and whisk ot combine well.
Make the Meatballs:
1In a large bowl, place the ground pork and ground beef, and break up the meat gently with your fingers.
2 Add the remaining meatball ingredients in the order listed, mixing gently to combine with your fingers. Do not overwork the meat or the meatballs will be tough.
3Add the breadcrumb mixture and mix until just combined with your fingers.
4Divide the meatball mixture into 12 to 14 pieces and roll each gently into a ball.
Finishing:
1Nestle each meatball into the tomato sauce in the crock.
2Cover and cook on HIGH for 4 hours or LOW for 8 hours until the meatballs are cooked through. They can remain on your slow cooker's WARM setting for up to 1 1/2 hours. Sprinkle in the chopped fresh herbs and cook on HIGH for 5 to 10 minutes to finish.
3Prepare the gluten-free pasta of your choice according to package directions. Drain.
4Turn cooked meatballs over in the sauce to coat completely. Place pasta on plate and cover with 2 to 3 meatballs and adequate sauce. Top with grated Parmesan.
2 Reviews