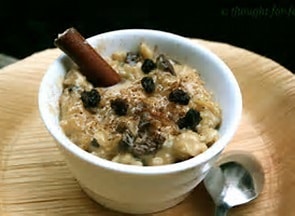 Rice Pudding with Agave Syrup
By Jill Place Saucepan, Stovetop
May 4, 2016
I'm sensitive to cane sugar. So I've been using alternatives like agave and coconut nectars and stevia for ages! My father LOVED rice pudding so I've probably been loving it too since I could eat solid food. A brief online search revealed this simple recipe which I'm sharing with you today. it's not only simple ... it's scrumptious, especially when you steam up a bunch of different kinds of rice together. My fave ... brown jasmine and red rices. You could also vary the dried fruit ... try currants or diced apricots instead of the raisins. Any way you make it ... Eat it up!
Prep: 5 mins
Cook: 30 mins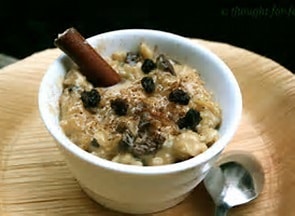 Directions
1Combine leftover rice, milk and agave syrup in a medium saucepan. Turn heat to medium and bring mixture to a boil, then lower the heat to a simmer and stir in the vanilla and raisins, if using. Cook until most of the milk is absorbed and pudding looks very creamy (25-35 minutes total cooking time).
2Divide rice pudding into individual serving dishes; serve warm or chilled.
3Sprinkle each dish with ground cinnamon before serving.
0 Reviews