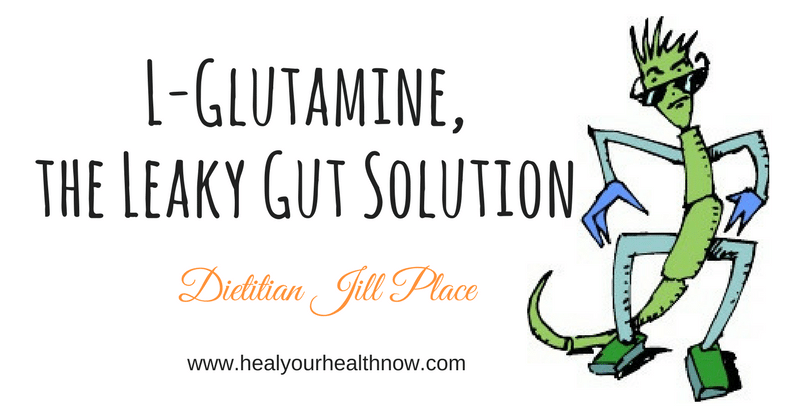 Gut-Fixing Supplements that Work
I thought it was time I returned to writing some more "Me and Gluten-Free" articles.  But this time I'm going to talk about supplements that I use to restore digestive systems ravaged by gluten and food sensitivities.  Let's face it … sometimes just identifying and avoiding sensitive and allergic foods doesn't always quite heal your gut.  Sometimes it's quite damaged and "Bad Gut Guys" … bacteria, toxins, yeasts, and molds … have overgrown the place.  And leaked into places in the body that they shouldn't be … hence the term "Leaky-Gut".
So what needs to take place is to remove those "Bad Gut Guys" … cartooned quite wonderfully above by my long-time graphic artist, Myron Grossman?  I'll talk about the supplements I use to do that in a later article.  And then repair the gut.  To do that, I use this spectacular supplement, L-Glutamine.  Here's some words I wrote for a supplement company about it.  And … because it was for a supplement company, I also annotated it with research studies.  So … if you're so inclined … go to town …
My practice can't exist without this vital supplement, the most abundant non-essential amino acid (protein) in the body.  It is best known as necessary for making proteins, but is also important for other processes, including cellular energy and the regulation of acid-base balance.  We usually have enough, but in times of stress and chronic illness, we need a lot more.
Long touted as important for protein muscle synthesis in exercise, research has shown that this is a benefit only for those with prolonged activity of 90 minutes or more (1).  It may, however, increase glycogen stores, (2) which does have a profound effect upon endurance and exercise recovery.
I'm not a sports nutritionist, but I'm going to tell you some amazing stories about how L-Glutamine has changed the lives of many in my care.  It was the cornerstone of protection from the ravages of chemotherapy and radiation when I was part of a famous integrated cancer team.  In the great majority of 36 clinical studies, glutamine supplementation "improve(d) host metabolism and clinical situation without increasing tumor growth" (3).  In other words, it kept the immune system afloat amid a poisonous onslaught of chemo drugs.  L-Glutamine is so important to the health of the immune system that it is called an "immunonutrient" (4). L-Glutamine proved to be such an important part of treatment in my clinic that the MD who did chemo research included it in one of his studies.
But the most dramatic use for L-Glutamine appears to be as a solution for "leaky gut", a condition that can affect up to 80% of us to varying degrees. "Leaky gut" is when the digestive system becomes damaged by many things, including antibiotics and other medication, illnesses such as cancer and the treatments for it, and our Standard American (SAD) Diet.  These may destroy the villi, which absorb nutrients from what we eat, the barrier that keeps things that shouldn't be in the bloodstream out of it, and the "Good Gut Guys" … friendly bacteria that hold the whole thing together.  Research seems to suggest that L-Glutamine regulates intestinal tight junction barriers (5); in other words, it prevents the "leaking" of foreign matter into the bloodstream, thus causing all sorts of physical issues.  It also is instrumental in overall intestinal integrity (6).  And, as we remember from all those yogurt commercials, 70% of the immune system resides there.  Therefore, a happy gut is also a happy immune system.
All I know is that a 17-year-old with "leaky gut" and continued weight loss was dramatically and rapidly healed and gained weight with a simple regime of L-Glutamine and digestive enzymes.  And that's just one of the great stories about the benefits of this amazing supplement.
Some say that the use of L-Glutamine is controversial.  But recent studies (7) have all but eliminated conjecture about the use of L-Glutamine in cancer and immunotherapy.  As for "leaky gut" … the proof is in the many, many positive case studies and miraculous healings … some which I've see myself.
REFERENCES
• Robson PJ, et al Effects of exercise intensity, duration and recovery on in vitro neutrophil function in male athletes . Int J Sports Med. (1999)
• Bowtell JL, et al Effect of oral glutamine on whole body carbohydrate storage during recovery from exhaustive exercise . J Appl Physiol. (1999)
• Kuhn KS, et al Glutamine as indispensable nutrient in oncology: experimental and clinical evidence. Eur J Nutr. (2010)
• Kim H Glutamine as an immunonutrient . Yonsei Med J. (2011)
• Li N, et al Glutamine regulates Caco-2 cell tight junction proteins . Am J Physiol Gastrointest Liver Physiol. (2004)
• Potsic B, et al Glutamine supplementation and deprivation: effect on artificially reared rat small intestinal morphology . Pediatr Res. (2002)
• Michalak KP, al Key Roles of Glutamine Pathways in Reprogramming the Cancer Metabolism. Oxidative Medicine and Cellular Longevity (2015)
Leave Your Comments About L-Glutamine, the Leaky Gut Solution Below
Do you feel that you have "Leaky Gut" … poor digestion?  What are you doing for it?  Is it working?